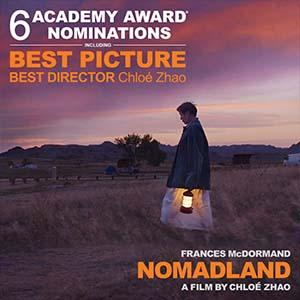 TICKETS GO ON SALE MARCH 31.
MOVIES ARE BACK - NOMADLAND WILL BE AN IN-THEATRE EXPERIENCE!
WINNER OF BEST MOTION PICTURE at this year's GOLDEN GLOBE AWARDS and CRITICS CHOICE AWARDS and is a favorite for this year's OSCARS. 
After losing everything in the Great Recession, a woman embarks on a journey through the American West, living as a van-dwelling modern-day nomad.
Director: Chloé Zhao
Cast: Fances McDormand, David Strathaim, Linda May, Swankie, Bob Wells, Angela Reyes 
"A poetic character study on the forgotten and downtrodden, Nomadland beautifully captures the restlessness left in the wake of the Great Recession." - Certified Fresh on Rotten Tomatoes
"It could not have been made anywhere but the United States. The vast expanses of the Western desert, the purple mountains' chilly majesty, provide a stark, flat, unwelcoming setting for the story about retirees and other Americans living in their vans." - John Anderson, America Magazine
USA | English | 2021 | Drama | 107 minutes | Rated R
Patrons must wear face coverings when not eating or drinking and are limited to a family 'pod' of six persons. All pods will be seated a minimum of 6' apart from other household pods. An usher will be available to assist with seating and monitor patron activities.
Film Prices
Lincoln Theatre Members get $2 off on the following prices with discount code:
General: $11.00
Seniors, Students and Active Military: $10.00
Children 12 and under: $8.50
Saturday & Sunday Bargain Prices:
General: $9.50
Children 12 and under: $8.00
All prices include a $2.00 Preservation Fee that goes directly into our capital account for preservation of the Lincoln Theatre and its programs