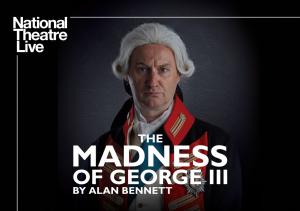 Running Time: 3 hours 30 minutes
The Madness of George III
By Alan Bennett | Directed by Adam Penford
The Madness of George III is a multi-award winning play dramatising the final years of King George III's reign of the United Kingdom, his battle with mental illness and the inability of the court to handle his condition. Written by one of Britain's best-loved playwrights Alan Bennett, known for his much celebrated plays The History Boys and The Lady in the Van. This epic drama was also adapted into a BAFTA Award-winning film.
Set in England in 1786, we find King George III is the most powerful man in the world. But his behaviour is becoming increasingly erratic, with his mind unravelling at a dramatic pace. As Queen Charlotte and Prime Minister attempt to hide the king's illness from his subjects, royal doctors hopelessly squabble over the correct cure, subjecting him to torturous medical treatments and ambitious politicians and the scheming Prince of Wales begin a power struggle, endangering the stability of the crown.
This production will be brought to life by Nottingham Playhouse. Adam Penford (NT Live: A Small Family Business) directs a stellar cast including Olivier Award-winners Mark Gatiss (Sherlock, Wolf Hall, NT Live Coriolanus) and Adrian Scarborough (Gavin and Stacey, Upstairs Downstairs.)
Cast: Mark Gatiss, Debra Gillett, and Adrian Scarborough.
Advance tickets: $18 adults, $16 seniors, $14 students and children + applicable fees. Lincoln Theatre Members receive $2 off. 10% discount for the purchase of 4 or more productions in the 2018-19 season.