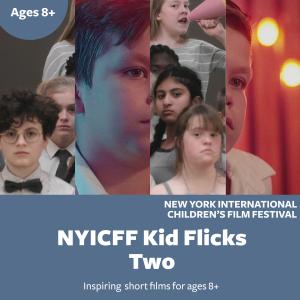 Friday, May 8 (All day)

to

Sunday, May 24 (All day)
VIRTUAL CINEMA OFFERING
FRIDAY, MAY 8 - SUNDAY MAY 24

Help support the Lincoln Theatre through this unique partnership with NYICFF!
Catch the best short films from around the world! (Ages 8+)
The New York International Children's Film Festival brings you a great opportunity to share the art of film with kids, with this program filled with fun and clever stories of growth and transformation. 
If you've ever been the youngest of the group, you'll sympathize with the little tadpole who always falls a tad behind in the charming KUAP. Catching up on penmanship is the name of the game if you want to graduate from pencils in the winning doc Pen Licence. Then little ones are in charge and grown-ups get to play when the hilarious Flipped reworks the script. 
With films from 10 countries, these shorts are sure to delight and inspire.
For the complete lineup of the films click here.
VOTE FOR YOUR FAVORITE KID FLICKS FILM: Click here to vote on your favorite films from Kid Flicks Two! 
English | 2019 | Kids & Family | 73 minutes | Ages 8+
$12 for a 48 hour rental period.
With each screening of NYICFF KIDS FLICKS TWO purchased, the Lincoln Theatre will receive 50% of the ticket price and the distributors and filmmakers receive the other 50%. Thank you for supporting the Lincoln!.
HOW TO WATCH: TELEVISION (via the the downloaded APPLE TV or ANDROID app, or CHROMECAST) MOBILE DEVICE (iPhone, iPad, Android) | COMPUTER (by clicking on the link below).
For more information on how the rental works:
Click the button above, or follow THIS LINK to purchase entry to our digital screening room for MYICFF KIDS FEST ONE for a $12 rental on Vimeo's secure virtual screening room created just for patrons of the Lincoln Theatre.
Create an account – it's very easy! – and complete your purchase.
Watch as much as you like for 48 hours!
For any questions regarding streaming, device, connection, or payment issues, you will need to reference these links and reach out directly Kids Flicks here.
For non-streaming questions, please feel free to reach out to us at admin@lincolntheatre.org