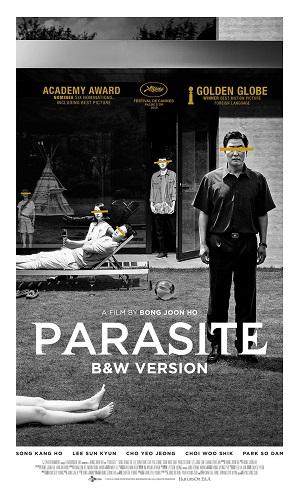 Saturday, Mar 14, 7:30 pm
The scheduled screening of Parasite has been cancelled.
All advance ticket purchases for Parasite will be offered:
A full refund
Credit towards a future performance
Credit towards a Lincoln Theatre Membership
Credit towards a Tax-Deductible Donation
Our box office will be reaching out to you via email for processing.
Experience Bong Joon-ho's Oscar-winning film in its new black and white release. Created prior to its Cannes 2019 premiere, the director has said of it: "I'm sure everyone will have a different opinion about this version. Personally, I think all the characters look even more poignant, and that the distinctions between the three different spaces where the families live, with all the shades of grey, are even more tragic."
Bong Joon ho brings his work home to Korea in this pitch-black modern fairytale. Meet the Park Family: the picture of aspirational wealth. And the Kim Family, rich in street smarts but not much else. Be it chance or fate, these two houses are brought together and the Kims sense a golden opportunity. Masterminded by college-aged Ki-woo, the Kim children expediently install themselves as tutor and art therapist, to the Parks. Soon, a symbiotic relationship forms between the two families. The Kims provide "indispensable" luxury services while the Parks obliviously bankroll their entire household. When a parasitic interloper threatens the Kims' newfound comfort, a savage, underhanded battle for dominance breaks out, threatening to destroy the fragile ecosystem between the Kims and the Parks.
Bong Joon-ho's social satire thriller walked away with four trophies at the Academy Awards and made Oscar history as the first South Korean film to be nominated for (and win) an Academy Award and the first non-English language film to win Best Picture, as well as the first non-English language film to win both Best Picture and Best Director. 
Director: Bong Joon Ho
Starring: Song Kang Ho, Lee Sun Kyun, Yeo-Jeong Jo, Choi Woo Sik, Park So Dam, Lee Jung Eun
Language: Korean
"An urgent, brilliantly layered look at timely social themes, Parasite finds writer-director Bong Joon Ho in near-total command of his craft." Certified Fresh on Rotten Tomatoes
"If the movie is a Rorschach of who you identify as parasite and host, it's a test you're just as likely to fail; a filmgoing experience that refuses to fit into any box, and forces viewers to breathe the dangerous air outside of it too." - Leah Greenblatt, Entertainment Weekly
"This is a mature, beautifully crafted piece of work and much cleverer than it initially appears." - Jennie Kermode, Eye for Film
"Let's just say that by "Parasite's" conclusion, what started out as a comedy of manners has become a furious snarl of rage and his most arresting social satire yet." - Bob Mondello, NPR
Film Prices:
Lincoln Theatre Members get a $2 discount on the following prices:
General: $11.00
Seniors, Students and Active Military: $10.00
Children 12 and under: $8.50
Sunday Bargain Prices:
General: $9.50
Children 12 and under: $8.00
Add $2.00 to the above prices for 3D screenings
All prices include a $2.00 Preservation Fee that goes directly into our capital account for preservation of the Lincoln Theatre and its programs. 
 
Members have benefits: Click here for details