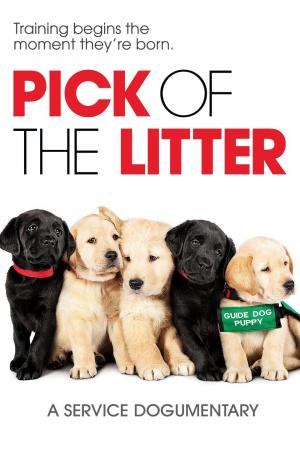 PICK OF THE LITTER follows a litter of puppies from the moment they're born and begin their quest to become guide dogs for the blind. Cameras follow these pups through an intense two-year odyssey as they train to become dogs whose ultimate responsibility is to protect their blind partners from harm. Along the way, these remarkable animals rely on a community of dedicated individuals who train them to do amazing, life-changing things in the service of their human. The stakes are high and not every dog can make the cut. Only the best of the best. The pick of the litter.
**Summit Assistance Dogs will be here with some real-life canine heroes before each screening! Summit Assistance Dogs puppies go through a training similar to the puppies in Pick of the Litter but their specialty is mobility assistance dogs. Summit representatives will be there for all three screenings, so come a little early to mingle with them in the Art Bar and see a brief presentation about service dog training on the stage about 15 minutes before the film starts. 
Director: Dana Nachman, Don Hardy Jr.
What the critics are saying:
"Pick of the Litter has all the fluffy adorableness audiences expect from a puppy documentary, along with a story that's as edifying as it is heartwarming." - Certified Fresh Rotten Tomatoes
"Pick of the Litter" is made with heart and reverence for man's best friend, especially those special pooches who go on to answer a higher calling. - Adam Graham, Detroit News
"By far the most joyous time you'll have at the movies all year." - Scott Marks, San Diego Reader
Film Prices:
Lincoln Theatre Members get a $2 discount on the following prices:
General: $10.50
Seniors, Students and Active Military: $9.50
Children 12 and under: $8.00
Sunday Bargain Prices:
General: $9.00
Children 12 and under: $7.50
Add $2.00 to the above prices for 3D screenings
All prices include a $1.50 Preservation Fee that goes directly into our capital account for preservation of the Lincoln Theatre and its programs. 
Members have benefits: Click here