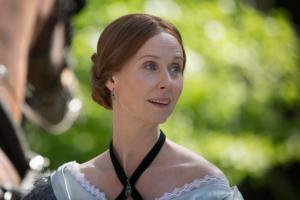 Saturday, Jun 10, 7:30 pm
A Quiet Passion is Terence Davies' biographical drama detailing the life of Emily Dickinson; her loves, her struggles, and her magnificent poetry. Shot on set in Belgium and on location in Amherst, Massachusetts, A Quiet Passion paints a sympathetic but far from idealistic portrait of Emily's life.
Director: Terrance Davies
Starring:  Cynthia Nixon, Jennifer Ehle, and Keith Carradine
On the Mighty Wurlitzer (30 minutes before curtain):
Sat June 10: Harvey Rossiter
Sun June 11: Glen Des Jardin
Tuesday June 13: Nick Nicolai
What the critics say:
Los Angeles Times, Justin Chang
The stately rhythms of the dialogue — drawn out by the particulars of Davies' blocking, framing and editing — become a kind of music. The effect is bewildering at first, then absorbing, then transfixing. Its purpose, in line with the loftiest ideals of poetry itself, is to clear the mind and stir the soul.
Time Out London, Dave Calhoun
The talk is pointed and careful in a household that savours the power and meaning of words, but it's as much the imagery that makes this film such a painterly joy.
The A.V. Club, A.A. Dowd
What's surprising about A Quiet Passion, given the writer-director's own incurable melancholy, is how lively, how flat-out funny, it frequently is. The film sometimes flirts, even, with becoming a full-on comedy of manners, at least before characters start keeling over and breathing their last breaths.
Film Prices:
Lincoln Theatre Members get a $2 discount on the following prices:
General: $10.50
Seniors, Students and Active Military: $9.50
Children 12 and under: $8.00
Sunday Bargain Prices:
General: $9.00
Children 12 and under: $7.50
Add $2.00 to the above prices for 3D screen
*All prices include a $1.50 Preservation Fee that goes directly into our capital account for preservation of the Lincoln Theatre and its programs. Film tickets are only available at the door beginning 45 minutes before the first screening of the day. This saves you, the ticket buyer the fees associated with purchasing online. Never fear – there are plenty of seats!
 
Members have benefits: Click here http://www.lincolntheatre.org/benefits-membership for details.
 
Film dates and times are subject to change and extended runs. Please check back here, or our phone message at 360.336.8955, day of show.