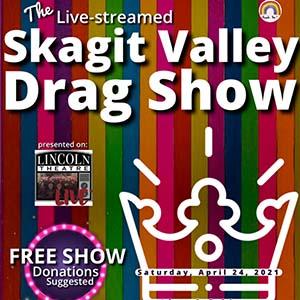 Saturday, Apr 24, 7:30 pm


The Stream goes Live at 7:00pm with a 30 minute slide show. The concert starts at 7:30pm.
Hello lovelies! If feels like forever and we have missed you BUT we are back and ready to light up your screens and hearts!
We are so excited to return to the Lincoln Theatre to share our art with you! In this time of uncertainty and change we are so happy to be able to partner with the Lincoln Theatre again and bring you the first live-streamed version of the Skagit Valley Drag Show! EXCITEMENT!!!!
Please join us in expressing ourselves while spreading joy and love to the world! Share this with your friends, family, co-workers, neighbors, and everyone else! 
Featured Performers: Gina Touché, Kris Rose, Balistair Touché, Stefanie Pink Rose, Schoen Would, Quintessa Touché, Columbia Blue
MCs: Lady Charlamaine, Geneva Shonie Borsen Touché, Gina Touché
This show is FREE but we are accepting donations!! Donations benefit the performers and Lincoln Theatre. Please donate!! 
The Skagit Valley Drag Show was created to give a space for connecting the community through creative expression and sharing of knowledge and support. This show has given great opportunity to newcomers and seasoned performers to share their art. Thank you for your continued support and participation. Here is to you and your support!
Mature Content Warning.
#CardinalDrag #TheValleyDragans
Support for the series comes from Richard Hartung, Margaret and Allen Bird, and Cindi and Steve Olszewski, Mr. Don Wick, the Rick Epting Foundation, Dimensional Communications, Logan Creek and JRivera & Associates. A big thank you to to Colby and Brett from Dimensional Communications for their technical assistance. Virtual Portrait Support: Wendy and Roger Ragusa, Susan Wilson and Eric Hall, Duncan West and Mary Deaton, Peggy Sue Erickson, Roger Gietzen and Chelan Robbins, Taylor Bannister, Cathy and Walter Pfahl, Susan Zamaria and Steve Girard.
The concerts will be streamed on our Youtube channel by donation. Proceeds will be split 50/50 between the performers and the Lincoln Theatre Center Foundation.
Artists: Are you ready to get back on stage? Please email roger@lincolntheatre.org if you are interested in being a part of this series.
Sponsors: Would you like to help offset crew and licensing costs? Low cost sponsorships are available. Click HERE for a PDF to the sponsor agreement. Please email roger@lincolntheatre.org for more information.