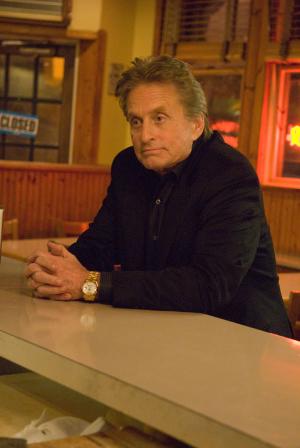 Saturday, Jul 31, 7:30 pm
Solitary Man tells the story of Ben Kalmen, a fifty-something New Yorker and former successful car dealer, who through his own bad choices lost his entire business. When the film opens, Ben's on the verge of a comeback, but some of the same motivations that led to his demise are threatening to take him down again. He's divorced from Nancy, his college sweetheart and the one person who knows him better than anyone. Although he still finds the time to hang out with his daughter Susan and his adoring grandson, she breaks off contact when she discovers he's seeing one of her friends. His girlfriend Jordan is the daughter of a very influential businessman who's on the board of a major auto manufacturer. If Ben can just keep his hubris in check for a little while longer, he will be back as big as ever. But circumstances place him in very close proximity with the one girl he shouldn't touch, throwing everything into jeopardy.
 
Starring: Michael Douglas, Susan Sarandon, Danny Devito, Mary-Louis Parker, Jenna Fischer, Jesse Eisenberg, Imogen Poots, and Ben Shenkman
Written by: Brian Koppelman
Directed by: Brian Koppelman
David Levien
 
What The Critics Said:
Entertainment Weekly Lisa Schwarzbaum
With an outstanding screenplay by Brian Koppelman and disciplined direction by Koppelman and David Levien, a story that could have been generic (or worse, scented with flowery bulls---) turns into a precise, honest, and affecting drama.
The New York Times A.O. Scott
A sharp, small-scale comedy of male misbehavior that turns out to be one of this dreary spring's pleasant cinematic surprises.
Arizona Republic Bill Goodykoontz
It's Douglas' movie - and you've got a fine movie.
Chicago Sun-Times Roger Ebert
Douglas plays Ben as charismatic, he plays him shameless, he plays him as brave, and very gradually, he learns to play him as himself. That's the only role left.
Salon.com Matt Zoller Seitz
Solitary Man is funny and absorbing, and it features a lead performance by Michael Douglas that's both hugely entertaining in itself, and fascinating for the way it illuminates the actor's long, colorful career.
Time Out New York David Fear
A truly impressive portrait of self-destructive, smooth-talking alpha males, and a testament to an actor who waltzes across that Peter Pan–syndrome tightrope with the greatest of sleaze.
New York Magazine David Edelstein
It's smoothly written and smartly paced, and Michael Douglas is riveting.
Variety Justin Chang
A movie of no small generosity: It offers audiences the pleasures of a screenplay whose every acerbic line is firmly rooted in character, and it hands Michael Douglas one of his best roles in years.
New York Observer Rex Reed
Solitary Man comes on the heels of last year's "A Serious Man" and "A Single Man," so it's small wonder that confusion reigns. But this film, co-directed by David Levien and Brian Koppelman (who also wrote the screenplay), is the best of the three.
 
Admission Prices:
General: $9.00
Seniors, Students and Active Military: $8.00
Members: $7.00
Children 12 and under: $6.00
Bargain Matinee Prices (all shows before 6:00pm)
General: $7.00
Members: $5:00
Children 12 and under: $4.00
Your membership with the Lincoln Theatre saves you $2.00 per film ticket
 
Film dates and times are subject to change. Please check here, or our phone message at 360.336.8955, day of show.