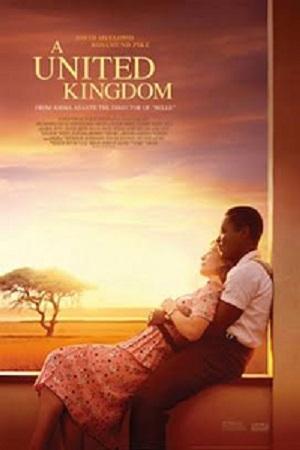 Running Time: 111 minutes
A United Kingdom is based on extraordinary true events. In 1947, Seretse Khama, the King of Botswana, met Ruth Williams, a London office worker. They were a perfect match, yet their proposed marriage was challenged not only by their families but by the British and South African governments. The latter had recently introduced the policy of apartheid and found the notion of a biracial couple ruling a neighboring country intolerable. South Africa threatened the British: either thwart the couple or be denied access to South African uranium and gold and face the risk of South Africa invading Botswana.
Director: Amma Assante, Steven Hall
Cast: David Oyelowo, Rosamund Pike, Jack Davenport, Tom Felton, Laura Carmichael, and Terry Pheto 
What the critics are saying:
Certified Fresh on Rotten Tomatoes
Well-acted, solidly crafted, and all-around worthy, A United Kingdom presents an absorbing look at a singular true-life love story.
Scott Marks, San Diego Reader
Screenwriter Guy Hibbert and Asante pull off a precision balancing act, illuminating the intensity of the love the couple shared and never once allowing their romance to take a back seat to the issues.
Johanna Schneller, Globe and Mail
Director Amma Asante is carving a niche for herself, making gorgeous-looking cinema from untold histories. Her best asset here is Oyelowo.
Film Prices:
General: $10.00
Seniors, Students and Active Military: $9.00
Members: $8.00
Children 12 and under: $7.00
Sunday Bargain Prices:
General: $8.00
Members: $6.00
Children 12 and under: $7.00
Add $2.00 to the above prices for 3D screen
Your membership with the Lincoln Theatre saves you $2.00 per film ticket.
*All prices include a $1.50 Preservation Fee that goes directly into our capital account for preservation of the Lincoln Theatre and its programs. Film tickets are only available at the door beginning 45 minutes before the first screening of the day. This saves you, the ticket buyer the fees associated with purchasing online. Never fear – there are plenty of seats!
 
Members have benefits: Click here for details.
 
Film dates and times are subject to change and extended runs. Please check back here, or our phone message at 360.336.8955, day of show.