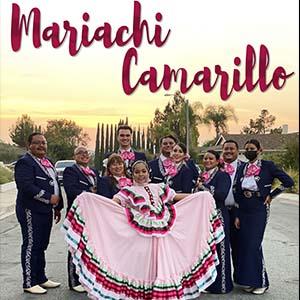 Stream Mariachi Camarillo Live from the Lincoln Theatre's Stage! You'll find the stream going live at 6:30pm Saturday on our YouTube Channel.
The Lincoln Theatre and MVHS Mariachi Presents Mariachi Camarillo live on Friday on October 16th at 7:00pm in honor of National Hispanic Heritage Month.
La serie histórica de conciertos virtuales del Teatro Lincoln y MV Mariachi​ presenta Mariachi Camarillo. Un evento de transmisión en vivo gratis en honor al Mes de la Herencia Hispana. Viernes 16 de Octubre 7pm. Donación aceptada en beneficio del Teatro Lincoln y MV Mariachi​.
Mariachi Camarillo has been performing since 1995. Based in Camarillo CA, Mariachi Camarillo, is the family band of Mount Vernon School District's New Mariachi Program Instructor, Ramon Rivera, Ramon was the director of the nationally renowned Mariachi program in the Wenatchee School District for 15 years. He uses  music as a leadership opportunity for his students, inspiring them to seek higher education to better themselves as human beings and helping them connect in a meaningful way with their cultural heritage. They have used music as a way to bring people together and in so doing have been a source of tremendous pride for the Wenatchee Valley. 
"Mount Vernon High School has had a mariachi program for eight years", he said, "but it's been part of the band program, with about 80 students total between the two classes at Mount Vernon High School and one at Mount Baker Middle School." Under Rivera's direction, it will become an independent program. "I would like to get it to what we have here," he said. When Rivera arrived in Wenatchee in 2005, he had about 100 students total, with two high school classes and three middle school classes. This year, the program has about 350 students, with four high school mariachi classes, six middle school classes and two mariachi dance classes, he said. "I'm still young enough to build it up," he said of Mount Vernon's program. "It's an opportunity to plant the seeds and start a whole new chapter."  - The Wenatchee World, January 30, 2020.
Mr. Rivera has had his student perform for Garth Brooks, Little Big Town, Ramon Ayala, Los Tigres del Norte, Lupillo Rivera Ana Bárbara, Dolores Huerta, and George Lopez. Mr. Rivera's  Mariachi Huenatche group, under his direction, has traveled and headlined Mariachi Festivals in Montana, Idaho, Oregon, California, Alaska, and Washington DC. Please join us in welcoming Mr. Rivera to the Skagit Valley.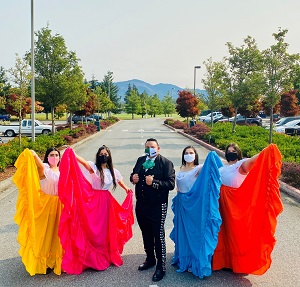 Ramon and MVHS Mariachi

This Concert is supported by JRivera Associates Translation Services
Support for the series comes from Logan Creek. A big thank you to to Colby and Brett from Dimensional Communications for their technical assistance.
The concerts will be streamed free on Youtube with donations accepted. Proceeds will be split 50/50 between the performers and the Lincoln Theatre Center Foundation.
Artists: Are you ready to get back on stage? Please email roger@lincolntheatre.org if you are interested in being a part of this series.
Sponsors: Would you like to help offset crew and licensing costs? Low cost sponsorships are available. Cilck HERE for a PDF to the sponsor agreement. Please email roger@lincolntheatre.org for more information.