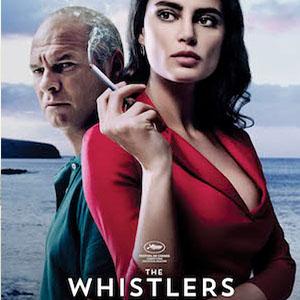 Friday, Apr 10 (All day)

to

Thursday, May 7 (All day)
VIRTUAL CINEMA OFFERING
NOW PLAYING

Help support the Lincoln Theatre through this unique partnership with Magnolia Pictures!
In THE WHISTLERS, not everything is as it seems for Cristi, a police inspector in Bucharest who plays both sides of the law. Embarking with the beautiful Gilda on a high-stakes heist, both will have to navigate the twists and turns of corruption, treachery and deception. A trip to the Canary Islands to learn a secret whistling language might just be what they need to pull it off.
DIRECTED BY Corneliu Porumboiu
PRODUCED BY Marcela Ursu and Patricia Poienaru
CAST Vlad Ivanov, Catrinel Marlon, Rodica Lazar, Antonio Buil
"The Whistlers finds writer-director Corneliu Porumboiu working in a more crowd-pleasing vein than previous efforts, with thoroughly entertaining results."  Ceritified Fresh on Retton Tomatoes
"A funhouse of cinematic mirrors. 'The Whistlers' makes reading subtitles not just vital, but fun." - Justin Chang, Los Angeles Times
"If the Coen Brothers were Romanian, they might have made 'THE WHISTLERS'." - A.O. Scott, The New York Times
''A daffy and dazzling crime film. Taut and constantly surprising, the film breathes new life into staid genre conventions." - Simon Abrams, RogerEbert.com
Romanian, English, Spanish | 2020 | Comedy, Crime | 97 minutes | NR (sex, nudity, violence)
$12 for a 72 hour rental period.
With each screening of The Whistlers purchased, the Lincoln Theatre will receive 50% of the ticket price and the distributors and filmmakers receive the other 50%. Thank you for supporting the Lincoln!.
HOW TO WATCH: TELEVISION (via the the downloaded APPLE TV or GOOGLE CHROMECAST) MOBILE DEVICE (iPhone, iPad, Android) | COMPUTER (by clicking on the link below).
For more information on how the rental works:
Click the button above, or follow THIS LINK to purchase entry to our digital screening room for The Whistlers for only $12 on Magnolia's secure virtual screening room created just for patrons of the Lincoln Theatre.
Create an account – it's very easy! – and complete your purchase.
Watch as much as you like for 72 hours!
For any questions regarding streaming, device, connection, or payment issues, you will need to reference these links and reach out directly Magnolia here.
For non-streaming questions, please feel free to reach out to us at admin@lincolntheatre.org