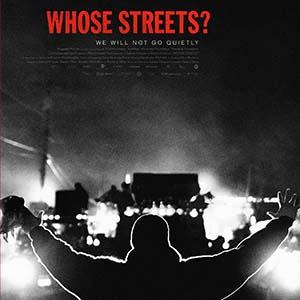 Friday, Jun 5 (All day)

to

Thursday, Jul 2 (All day)
QUARANTINE CINEMA OFFERING
OPENS FRIDAY, JUNE 5

Next up in our virtual cinema program is a series of three films from MAGNOLIA PICTURES that speak strongly to systemic inequity: I AM NOT YOUR NEGRO, WHOSE STREETS?, and TONI MORRISON:THE PIECES I AM
Tickets: $6.99 to own in perpetuity, or purchase the entire series in a bundle for $15.00 Pricing is good through June 30.
Told by the activists and leaders who live and breathe this movement for justice, Whose Streets? is an unflinching look at the Ferguson uprising. When unarmed teenager Michael Brown is killed by police and left lying in the street for hours, it marks a breaking point for the residents of St. Louis, Missouri. Grief, long-standing racial tensions and renewed anger bring residents together to hold vigil and protest this latest tragedy. Empowered parents, artists, and teachers from around the country come together as freedom fighters. As the national guard descends on Ferguson with military grade weaponry, these young community members become the torchbearers of a new resistance. Filmmakers Sabaah Folayan and Damon Davis know this story because they are the story. Whose Streets? is a powerful battle cry from a generation fighting, not for their civil rights, but for the right to live.
"Whose Streets? takes a close-up look at the civil unrest that erupted after a shocking act of violence in Ferguson, Missouri - and the decades of simmering tension leading up to it." - Certified Fresh on Rotten Tomatoes
A film by Sabaah Folayan
United States | 2017 | Documentary | 100 minutes | R
With each screening purchased, the Lincoln Theatre will receive 50% of the ticket price and the distributors and filmmakers receive the other 50%
HOW TO WATCH: TELEVISION (via the downloaded APPLE TV app or GOOGLE CHROMECAST) MOBILE DEVICE (iPhone, iPad, Android) | COMPUTER (by clicking on the link below).
For more information on how the rental works:
Click the button above to purchase entry to our digital screening room 
Create an account – it's very easy! – and complete your purchase.
Watch as much as you like in perpetuity!
For any questions regarding streaming, device, connection, or payment issues, you will need to reference these links and reach out directly Magnolia here.
For non-streaming questions, please feel free to reach out to us at admin@lincolntheatre.org