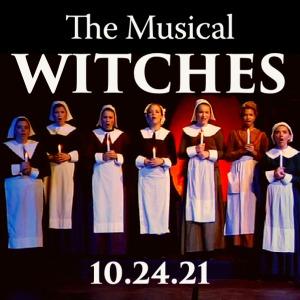 Free Online Premiere of Witches the musical. Full Show (English) Join us online at 5pm PDT on Sunday, October 24 on YouTube 
What really happened in 1692 Salem?
In a world where suspicions of witchcraft were all around them, a group of young girls formed a circle of trust and unleashed unspeakable terror onto a small village. Welcome to the year 1692 and the village of Salem Massachusetts. Based on the true story and historical record of the 1692 Salem Witch Trials, with a good dose of musical theater fantasy
This is the first time that the full stage production of Witches the musical has been made available online. All original music, script and lyrics with a full musical theater cast. Filmed live on stage from the world premiere run at the Historic Lincoln Theatre in October 2012.
A free public event. Donations are encouraged and 100% of all donations will benefit the Historic Lincoln Theatre. DONATE HERE  Designate "Witches the musical" for donations from drop-down menu.
Original production presented by the Theater Arts Guild. Directed by Jane Skinner. Book, Music, Lyrics and Orchestrations by Conrad Askland
Running time: 2 hours 8 minutes with a five minute intermission
YouTube Premiere video link: https://www.youtube.com/watch?v=BC59dIPKHWw
YouTube Promo Video: https://www.youtube.com/watch?v=FsaWXbIrhu0
Facebook Event link: https://fb.me/e/1e2gdKNDI
Lincoln donation link: https://app.arts-people.com/index.php?contribution=lncln