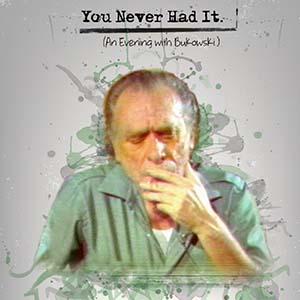 Friday, Aug 7 (All day)

to

Thursday, Aug 27 (All day)
QUARNATINE CINEMA OFFERING
OPENS FRIDAY, AUGUST 7

Help support the Lincoln Theatre through this unique partnership with Kino Marquee!
A night of drinking and talking about sex, literature, childhood and humanity with the irreverent writer poet Charles Bukowski in his California house in 1981. A story of tapes lost, found and brought back to life.
Producer and journalist Silvia Bizio introduces an evening with writer Charles Bukowski by recounting her time with the author and the discovery of an extraordinary time capsule that lead to the documentary's creation.
This short documentary is based on a video interview conducted by Bizio in January of 1981 with Bukowski at his home in San Pedro, California. It was a long night of smoking cigarettes and drinking wine with Bukowski and his soon to be wife, Linda Lee Beighle, talking about all kinds of subjects, from writers to sex, love and humanity. The interview was shot on Umatic tapes which have been digitized and edited along with new shots in Super8 of scenes of Los Angeles today and poems read by the same Bukowski.
 "...a time capsule which captures an iconic American author in his natural state and habitat [...] must see footage for any Bukowski enthusiast…" -- Hammer To Nail
We are planning to have a Q&A to celebrate Bukowski's centennial on August 16. More details will be coming soon.
Directed by Matteo Borgardt
USA | English | 2020 | Drama | 55 minutes | NR 
Tickets: $12 for a % Day rental period.
50% of your ticket purchase directly supports the Lincoln Theatre, while the remainder support independent filmmaking & distribution.
HOW TO WATCH: TELEVISION (via the the downloaded APPLE TV or ANDROID app, or CHROMECAST) MOBILE DEVICE (iPhone, iPad, Android) | COMPUTER (by clicking on the link below).
For more information on how the rental works:
Click the button above, or follow THIS LINK to purchase entry to our digital screening room.
Create an account – it's very easy! – and complete your purchase, you can also gift a screening to a friend of family member.
Watch as much as you like for 5 days!
For any questions regarding streaming, device, connection, or payment issues, Kino Marquee can help you HERE.
For non-streaming questions, please feel free to reach out to us at admin@lincolntheatre.org