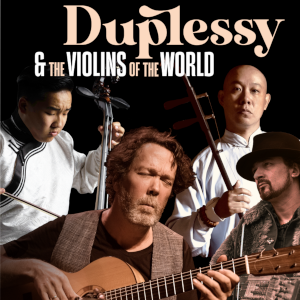 Thursday, May 18, 7:30 pm
Due to medical reasons DUPLESSY's Sunday, November 6 concert has been rescheduled for Thursday, May 18, 2023. 
NOVEMBER 6 TICKET BUYERS: If you can attend on the new date there is nothing you need to do. All tickets to the November 6 performance will be honored for the new date. If you are unable to attend, please contact our Box Office via tickets@lincolntheatre.org or 360.336.8955 with your choice of one of the following:
Credit towards another performance
Credit towards a Lincoln Theatre Membership
Credit towards a Tax-Deductible Donation
A full refund
Duplessy & the Violins Of The World, brought to you by the folks behind International Guitar Night, is the brainchild of French Gypsy guitarist, singer, and composer Mathias Duplessy. It brings together the rhythms and melodies of many different cultures in an incredible new style of exotic and unique arrangements.
Asian always, spirit of the blues often, and Celtic rhythms and melodies of the Mongolian steppe offer an astonishing cross-cultural encounter. The four virtuosos bridge the gap between tradition and modernity.
The group consists of Guo Gan from China with the erhu (Chinese fiddle), Dalaijargal Daansuren from Mongolia with the morin khuur (horse-headed fiddle) and throat singing, American fiddler extraordinaire Casey Driessen, and Mathias Duplessy himself with his expressive, propulsive acoustic guitar.
Their first record, Mathias Duplessy & The Violins Of The World, was followed by a successful world tour that opened people's eyes and ears to the band's amazing musical abilities. They are back with a new album, Brothers Of Strings (released in January 2020), a road movie of new worlds -- from the Gobi to China and the ancient Far East -- including wild covers of Ennio Morricone's theme from The Good, the Bad and the Ugly and Dire Straits's "Brothers in Arms."
We welcome everyone to join us at the Historic Lincoln Theatre to see Duplessy & The Violins Of The World on their first-ever tour of the United States!
Advance Reserved Seating Tickets: $35 1st Tier; $30 2nd Tier; $25 3rd Tier; $20 4th Tier + applicable fees. Lincoln Theatre Members receive $2 off all ticket tiers.