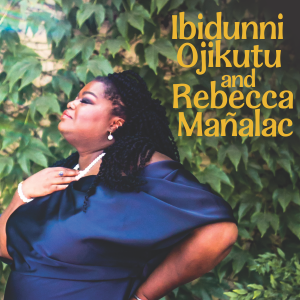 The Historic Lincoln Theatre is proud to welcome Seattle Opera soprano Ibidunni Ojikutu and collaborative pianist Rebecca Mañalac to our stage for their new program, Wisdom.
Wisdom is a recital of art song and American operatic works by composers that all identify as women. Three of the composers are Black women, and two of those are young Black women.
Featuring the works of B.E. Boykin, Libby Larsen, Nkeiru Okoye, Florence Price and PNW composer Deborah Anderson, Wisdom tells the stories of historical figures (Harriet Tubman and the wives of Henry VIII), moments in the everyday lives of women (featuring the poetry of Maya Angelou), and various other slices of life.
Wisdom will also be the worldwide premiere of three new songs by Anderson, as well as the first performance of Ojikutu and Mañalac's tour program.
A frequent performer in the Pacific Northwest, Soprano Ibidunni Ojikutu made her Seattle Opera debut as "Strawberry Woman" in their 2011 production of Porgy and Bess. Opera News said of her performance, "Ibidunni Ojikutu's turn as Strawberry Woman was as charming as the lilt in her voice."
A recipient of the top award in the Seattle Opera Guild Training Grant Competition, Ms. Ojikutu was pleased to make her role debut as Serena in Seattle Opera's 2018 production of Porgy and Bess. Recent performances include Wife 2/Market Woman 2 in the Seattle Opera world premiere of A Thousand Splendid Suns, Elsa in Sky Opera's Lohengrin, and Aida in Sky Opera's Late Verdi concert.
Other recent projects include feature film In The Garden of Sonder (a tribute to the work of Maya Angelou), a debut with Portland Opera in their production of Pulitzer-winning The Central Park Five, and a performance of The Songs of Harriet Tubman with the WWU Symphony Orchestra.
Pianist Rebecca Mañalac is a musician and educator in Bellingham, WA. She earned her bachelor's degree in piano performance cum laude from the University of Washington in Seattle, and obtained her master's degree in piano performance from Loyola University New Orleans.  Rebecca has appeared as soloist with the Academy Chamber Orchestra, the University of Puget Sound Orchestra, and the Loyola Symphony Orchestra.
Rebecca is Staff Pianist at Western Washington University, and pianist for Trinity Lutheran Church, where she also directs the handbell choirs and children's music program. An experienced collaborator, Rebecca has appeared on programs for the Bellingham House Concert series, the Firefly Classics series at the Jansen Art Center, and the Bellingham Music Club's "Night Beat" series. She maintains a private piano studio and an active piano duo partnership with her husband Gabriel.
Advance Reserved Seating Tickets: $30 1st section; $25 2nd section + applicable fees. Lincoln Theatre Members receive $2 off. Students receive $10 off.