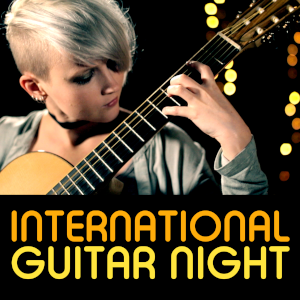 International Guitar Night is the world's premier touring guitar festival, each show bringing together the most interesting and innovative acoustic guitarists to exchange musical ideas in a public concert setting.
For each tour, IGN founder Brian Gore brings together a new cast of guitar luminaries for special evenings of solos, duets, and quartets that highlight the dexterity and diversity within the world of acoustic guitar.
Appearing this year:
Jocelyn Gould is a Canadian jazz guitarist. Passionate about the tradition of jazz guitar, she cites Grant Green, Kenny Burrell, Wes Montgomery, and Joe Pass as primary influences. She has performed at the St. Lucia Jazz Festival, the Detroit Jazz Festival, the Toronto Jazz Festival, and the Winnipeg Jazz Festival, and has performed internationally with acclaimed musicians including Freddy Cole, Michael Dease, and Etienne Charles.
Jesús Guerrero, from San Fernando, Spain, started playing guitar at the age of eleven years under the tutelage of master teacher José Luis Balao. Jesus' natural virtuosity with the instrument and his musical creativity have led him to be one of the most sought-after figures of the current flamenco scene, and he has collaborated with Nina Pastori, Miguel Poveda, Carlos Saura, Lila Downs, Soledad Pastorutti, and many others.
Stephanie Jones is an active soloist and chamber musician, currently based in Germany. Stephanie won first prize in both the Uppsala International Guitar Festival Competition and the Hannabach Guitar Competition. Stephanie has performed extensively around the globe. Stephanie is passionate about sharing her music with others and is recognized as an innovative and deeply musical artist.
Olli Soikkeli was born in Nurmes, Finland, and started playing guitar at age of 12. After a few years of playing, Olli was introduced to the music of great Django Reinhardt, and Gypsy Jazz has been Olli's main focus ever since. Despite his young age, Olli has already played with stars such as Bucky Pizzarelli, Stochelo Rosenberg, Tommy Emmanuel, Andreas Öberg, Cyrille Aimee, Anat Cohen, Antti Sarpila, and Marian Petrescu.
Advance Reserved Seating Tickets: $45 1st Section; $40 2nd Section; $35 3rd Section; $30 4th Section + applicable fees. Lincoln Theatre Members receive $2 off all seating tiers.