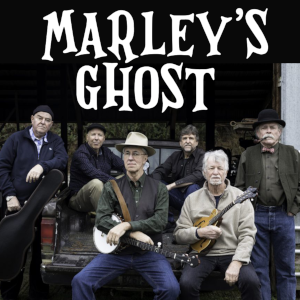 "If there is a group who can push forward the ageless Americana blueprint of The Band, it might just be Marley's Ghost." —Something Else!
As most people will tell you, there's an undeniable connection between versatility and variation. Suffice it to say that each depends on the other. In the case of Marley's Ghost, that eclectic energy has resulted in a broad repertoire that has defied any ability to tag them to any one particular genre. Their dozen albums to date -- like the output of The Band -- survey a broad scope of Americana and acoustic music in general, refusing to confine them to any singular niche.
Composed of singer/multi-instrumentalists Dan Wheetman, Jon Wilcox, Mike Phelan, Ed Littlefield Jr., Jerry Fletcher, and Bob Nichols, the band can sing and play anything with spot-on feel, from roots to rock, blues to bluegrass, gospel to country, which is what they've been doing -- to the ongoing delight of a fervent cult that includes many of their fellow musicians -- for over 30 years. More than three decades from that initial spark, they're still playing together with the same passion, purpose and chemistry that inspired them early on.
Advance Reserved Seating Tickets: $39 1st section; $34 2nd section; $29 3rd section; $24 4th section + applicable fees. Lincoln Theatre Members receive $2 off.
MEMBER-ONLY PRESALE TICKETS: FRIDAY, FEBRUARY 10 at 10:00 am.
GENERAL TICKET SALE: FRIDAY, FEBRUARY 17 at 10:00 am.