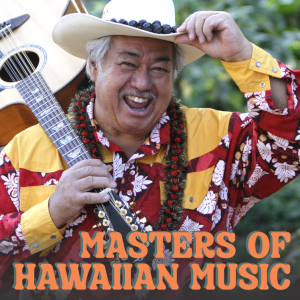 The Masters of Hawaiian Music -- George Kahumoku Jr., Led Kaapana, and Jeff Peterson -- join forces on the Lincoln stage for a night of beautiful, joyful virtuosity!
Ledward Kaapana and Jeff Peterson are frequent guest artists on George Kahumoku's renowned Masters of Hawaiian Slack Key Guitar series on Maui, and on his Grammy award-winning albums. Together, these Masters share the delightful experience of kī-hō'alu (slack key guitar) – the distinctly Hawaiian style of open tunings – 'ukulele, and Hawaiian vocals.
The three masters, featured regularly at Maui's renowned "Slack Key Show," share Hawai'i's unique & sprightly folk styles, with origins in the early 19th century Hawaiian paniolo (cowboy) culture. They themselves grew up in rural areas where immersion from childhood in Hawaiian music and culture was both entertainment and education.
Four-time Grammy-winner and master slack key guitarist George Kahumoku Jr., known as "Hawai'i's Renaissance Man," is a multiple Na Hōkū Hanohano (Hawaiian Grammy) Award winner; a vocalist, storyteller, songwriter & author, teacher, sculptor, farmer, and chef.
National Heritage Fellow and master of slack key guitar Led Kaapana has been one of Hawai'i's most influential musicians for decades. His mastery of stringed instruments, his exceptional picking style on slack key guitar and 'ukulele, and his extraordinary baritone-to-falsetto (leo ki'eki'e) vocal range have made him a legend and earned him multiple Na Hōkū Awards, including Best 'Ukulele and Best Slack Key Guitar, and --by popular vote -- Favorite Entertainer.
With 15 Na Hōkū Awards, including 4 for Best Slack Key Guitar, virtuoso Jeff Peterson is a star of the current generation enlivening slack key traditions. Five of Jeff's songs are featured in the award-winning George Clooney film The Descendants, and he has composed a Concerto for Slack Key and Orchestra.
"Virtuosic keepers of a cultural flame…Bringing folklore & cultural memory into a performance that unfolded as breezy entertainment." —The New York Times
Advance Reserved Seating Tickets: $39 1st section; $34 2nd section; $29 3rd section; $24 4th section + applicable fees. Lincoln Theatre Members receive $2 off.