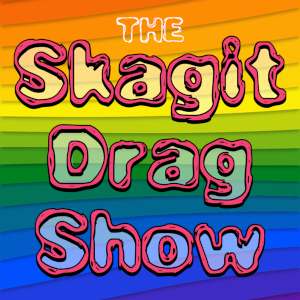 Simply Curious Enterprises presents
The Skagit Drag Show (Fall Edition)
For over 10 years, Skagit Drag has been a place for creativity, inclusiveness, entertainment, support, education, and love! Through our drag events we are able to help the community be more accepting, accountable, and to promote groups that supply the resources and put in the effort to create and maintain safe spaces in our communities.
We have two annual shows, one in the Spring and one in the Fall.
You can check us out on Facebook under The Skagit Drag Show. Each of you is an integral part of our success and our ability to involve others through creating safe spaces. We thank you for you're continued support. We encourage you to be truly you and show up for others. We are stronger together. We are love. Be seen, be heard, be you!
#SkagitDrag #SimplyCurious 
Advance General Seating / Virtual Streaming Tickets: $20 + applicable fees. Virtual Ticket Buyers will receive their show special links via email 2 hours prior to the show!

VIRTUAL TICKET BUYERS: Your streaming link will be sent to your email address prior to the show.