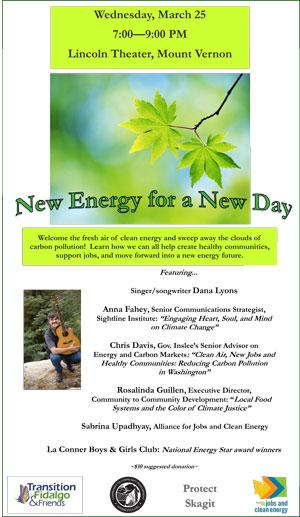 Wednesday, Mar 25, 7:00 pm
Admission: $10 suggested donation
Ready for spring? Welcome the fresh air of clean energy and sweep away clouds of carbon pollution!
 
Learn how we can all help create healthier communities, support jobs, and move forward together into a new energy future.
 
Keynote speakers:
 
Chris Davis - Governor Inslee's Senior Advisor for Energy and Carbon Markets
 
Expertise in resource management (water, working farms, forests) and economic development. Chris will explain Governor Inslee's cap and trade legislation that will dramatically reduce carbon pollution.
 
 
Anna Fahey - Sightline Institute Senior Communication Strategist
 
Tackling the tricky issues of climate change and the role of individuals and policy makers. Anna grew up in Anacortes and is a 4th generation Seattle resident.
 
Rosalinda Guillen, Executive Director of Community to Community
 
Climate change, sustainability and social justice as a way of life in a dynamic participatory process.
 
Music:
Dana Lyons: Dynamic singer/songwriter known for his sharp wit and beautiful original songs
 
More:
 
La Conner Boys & Girls Club original performance - Energy Star Puppet Pals