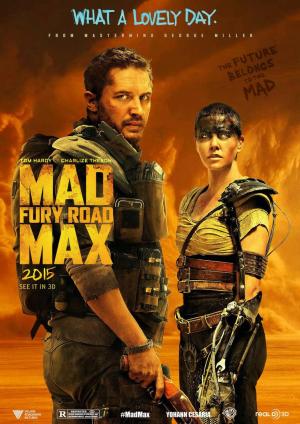 3D Screenings: Friday, August 7th and Monday, August 10th 2D Screenings: Saturday, August 8th and Sunday, August 9th
 
In the furthest reaches of our planet, in a stark desert landscape where humanity is broken, and everyone is fighting for the necessities of life, there are two rebels who just might be able to restore order—Max (Tom Hardy), a man of action and few words, who seeks peace of mind following the loss of his wife and child in the aftermath of the chaos, and Furiosa (Charlize Theron), a woman of action who believes her path to survival may be achieved if she can make it across the desert back to her childhood homeland.
Starring: Charlize Theron, John Howard, Nathan Jones, Nicholas Hoult, Riley Keough, Tom Hardy and Zoë Kravitz Director: George Miller Wurlitzer Organists: Saturday, August 8: Glen Des Jardins Sunday, August 9: Glen Des Jardins What the critics are saying: Chicago Sun-Times, Richard Roeper It's all perfectly, wonderfully, fantastically crazy. Amidst all those ingenious, power-packed road warrior sequences, Fury Road contains a surprising amount of depth and character development. Austin Chronicle, Marc Savlov Unstoppable and righteous, it roars across the no-lane hardpan like the four-iron horseman of the kinetic apocalypse, amped up on bathtub crank and undiluted movie love. Oh, what a movie. What a lovely movie! The New Yorker, Anthony Lane Wild and unrelenting, but also possessed of the outlandish poetry, laced with hints of humor, that rises to the surface when the world is all churned up. ReelViews, James Berardinelli Talk about taking things to a new level… Theaters showing Fury Road should have seat belts installed. indieWIRE, Eric Kohn "Mad Max" doesn't just depict conflicts with evildoers in a tattered existence. It delivers a rare alternative to aggressively stupid action movies. At a time of great need, Max rides again. Admission Prices*: General: $10.00 Seniors, Students and Active Military: $9.00 Members: $8.00 Children 12 and under: $7.00 Sunday Bargain Prices: General: $8.00 Members: $6.00 Children 12 and under: $5.00 Add $2.00 to the above prices for 3D screenings. Your membership with the Lincoln Theatre saves you $2.00 per film ticket. *All prices include a $1.50 Preservation Fee that goes directly into our capital account for preservation of the Lincoln Theatre and its programs. Film tickets are only available at the door beginning 45 minutes before the first screening of the day. This saves you, the ticket buyer the fees associated with purchasing online. Never fear – there are plenty of seats! Monday film screenings are part of the Lincoln Theatre Member Mondays! Click here http://www.lincolntheatre.org/benefits-membership for details. Film dates and times are subject to change and extended runs. Please check back here, or our phone message at 360.336.8955, day of show.