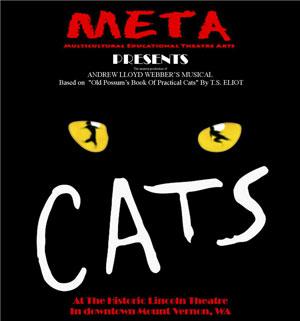 Friday, January 8, 2016 - 7:30pm
Saturday, January 9, 2016 - 7:30pm
Sunday, January 10, 2016 - 2:00pm
Friday, January 15, 2016 - 7:30pm
Saturday, January 16, 2016 - 7:30pm
Wednesday, January 20, 2016 - 7:30pm
Thursday, January 21, 2016 - 7:30pm
Friday, January 22, 2016 - 7:30pm
Saturday, January 23, 2016 - 7:30pm
Advance Reserved Seating Tickets: $24, $22, $20, $18 Wednesday, January 20th is Bargain Night: Pay-What-You-Can, suggested $10. Tickets available 2 hours prior to performance only.
Based on the universally popular poetry of T.S. Eliot, CATS tells the story, in song and dance, of the annual gathering of Jellicle cats at which time one special cat is selected to ascend to the Heaviside layer. A true musical theatre phenomenon, CATS opened on May 11, 1981 and ran for a record-setting 21 years. CATS's London success was nearly matched on Broadway where it ran at the Wintergarden Theatre for just over 18 years.
Music by ANDREW LLOYD WEBBER
Based on "Old Possum's Book Of Practical Cats" By T.S. ELIOT*
 
First performance at The New London Theatre, London May 11,1981 presented by Cameron Mackintosh and The
 
Really Useful Theatre Co. Limited
 
Originally presented in America by The Shubert Organization, Cameron Mackintosh, The Really Useful Company and David Geffen
 
Original Broadway production
 
Directed by Trevor Nunn
 
Associate Directed and Choreography by Gillian Lynne
 
Designed by John Napier
 
Orchestration by David Cullen and Andrew Lloyd Webber
 
META Performing Arts (Pan – the Musical; Romeo and Juliet) now brings this show to the Skagit Valley for the first time.