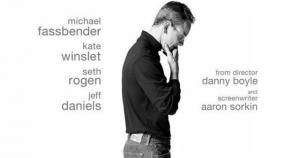 Starring: Jeff Daniels, Kate Winslet, Michael Fassbender, Seth Rogen
 
Set backstage at three iconic product launches and ending in 1998 with the unveiling of the iMac, Steve Jobs takes us behind the scenes of the digital revolution to paint an intimate portrait of the brilliant man at its epicenter. 
 
Director: Danny Boyle   
 
What the critics are saying: 
 
Total Film
 
Jamie Graham
 
I don't want people to dislike me. I'm indifferent to if they dislike me," says Jobs. Well, this won't be for everyone but it dazzles. Markedly better than Ashton Kutcher's Jobs… 
Los Angeles Times
 
Kenneth Turan
 
Steve Jobs is a smart, hugely entertaining film that all but bristles with crackling creative energy. What it is not is a standard biopic.
 
Screen International
 
Graham Fuller
 
It's no discredit to Steve Jobs, Danny Boyle's propulsive and iconoclastic biopic of the digital-revolution visionary who democratised personal computing, that it's a dispiriting study of capitalistic self-aggrandisement – one that leaves a sense of unease despite its ironically upbeat ending. 
Village Voice
 
Nick Schager
 
This is a swift and searing attempt to pull back the curtain on Jobs and, in the process, investigate the relationship between the myth and the man.
 
  
Film Prices:
 
General: $10.00
Seniors, Students and Active Military: $9.00
Members: $8.00
Children 12 and under: $7.00
 
Sunday Bargain Prices:
 
General: $8.00
Members: $6.00
Children 12 and under: $5.00
 
Add $2.00 to the above prices for 3D screenings.
 
Your membership with the Lincoln Theatre saves you $2.00 per film ticket.
 
*All prices include a $1.50 Preservation Fee that goes directly into our capital account for preservation of the Lincoln Theatre and its programs. Film tickets are only available at the door beginning 45 minutes before the first screening of the day. This saves you, the ticket buyer the fees associated with purchasing online. Never fear – there are plenty of seats!
 
Monday film screenings are part of the Lincoln Theatre Member Mondays! Click here http://www.lincolntheatre.org/benefits-membership for details.
 
Film dates and times are subject to change and extended runs. Please check back here, or our phone message at 360.336.8955, day of show.