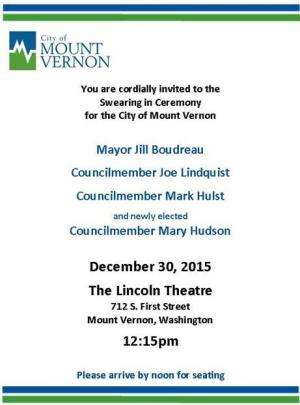 Wednesday, Dec 30, 12:15 pm
Mayor Jill Boudreau, City Councilmembers Mark Hulst and Joe Lindquist, and newly elected City Councilmember Mary Hudson will take the oath of office for their upcoming terms on Wednesday, December 30, at 12:15 p.m. Mayor Boudreau first took office on January 1, 2012 and will be sworn in for a second term lasting from January 1, 2016 to December 31, 2019. Councilmember Mark Hulst (Ward 2), Councilmember Joe Lindquist (Ward 1), and Councilmember-elect Mary Hudson (Ward 3) will also be sworn in for four-year terms.
Please arrive by 12:00pm for seating.