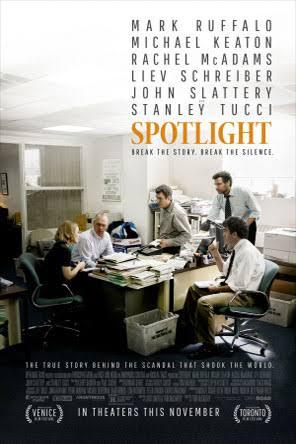 Saturday, Feb 27, 7:30 pm
Tonight may be your last chance to see the Best Picture Winner,
Spotlight, from last night's Academy Awards Ceremony, on the big screen for a long time.
 
Spotlight tells the riveting true story of the Pulitzer Prize-winning Boston Globe investigation that would rock the city and cause a crisis in one of the world's oldest and most trusted institutions. When the newspaper's tenacious "Spotlight" team of reporters delve into allegations of abuse in the Catholic Church, their year-long investigation uncovers a decades-long cover-up at the highest levels of Boston's religious, legal, and government establishment, touching off a wave of revelations around the world.
 
Director: Thomas McCarthy
 
Starring: John Slattery, Live Schreiber, Mark Ruffalo, Michael Keaton, Rachel McAdams, and Stanley Tucci                          
 
What the critics are saying:
 
New Orleans Times-Picayune
Mike Scott
 
With Spotlight, we get a reminder of the vital importance of an independent, professional press to any community.
 
Miami Herald
Rene Rodriguez
 
Spotlight is simply a great story exceedingly well told, through characters whose fingers are perpetually stained with ink.
 
Time Out London
Dave Calhoun
 
It's a more subtle, damning film for implicating the media – as much as the church, the courts, the legal profession and other Boston institutions – in the systematic, wider cultural cover-up it describes.
 
Washington Post
Ann Hornaday
 
For all of its modesty and dedication to process, Spotlight winds up being a startlingly emotional experience, and not just for filmgoers with intimate knowledge of the culture it depicts.
  
Film Prices:
 
General: $10.00
Seniors, Students and Active Military: $9.00
Members: $8.00
Children 12 and under: $7.00
 
Sunday Bargain Prices:
 
General: $8.00
Members: $6.00
Children 12 and under: $5.00
 
Add $2.00 to the above prices for 3D screenings.
 
Your membership with the Lincoln Theatre saves you $2.00 per film ticket.
 
*All prices include a $1.50 Preservation Fee that goes directly into our capital account for preservation of the Lincoln Theatre and its programs. Film tickets are only available at the door beginning 45 minutes before the first screening of the day. This saves you, the ticket buyer the fees associated with purchasing online. Never fear – there are plenty of seats!
 
Monday film screenings are part of the Lincoln Theatre Member Mondays! Click here  for details.
 
Film dates and times are subject to change and extended runs. Please check back here, or our phone message at 360.336.8955, day of show.