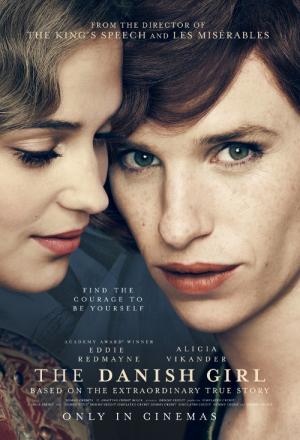 Congratulations to Alicia Vikander on winning Best Supporting Actress for her performance in this week's film The Danish Girl, the extraordinary story of Lili Elbe, one of the world's first people to undergo gender confirmation surgery, and the powerful love story of two people who go through the journey together. The Danish Girl also stars last year's Best Actor winner Eddie Redmayne.
 
Inspired by the true story of Danish artists Einar Wegener and his wife Gerda, this tender portrait of a marriage asks: What do you do when someone you love wants to change? It starts with a question, a simple favor asked of a husband by his wife on an afternoon chilled by the Baltic wind while both are painting in their studio. Her portrait model has canceled, and would he mind slipping into a pair of women's shoes and stockings for a few moments so she can finish the painting on time. "Of course," he answers. "Anything at all." With that, one of the most passionate and unusual love stories of the twentieth century begins.
 
Starring: Eddie Redmayne, Alicia Vikander, Amber Heard and Ben Whishaw.
 
Director: Tom Hooper
 
What the critics are saying:
Certified Fresh on Rotten Tomatoes
 
The Danish Girl serves as another showcase for Eddie Redmayne's talent -- and poignantly explores thought-provoking themes with a beautifully filmed biopic drama.
 
New York Observer
Rex Reed
 
It's anyone's guess whether the amazing Mr. Redmayne's most prestigious performance will go down in the archives as Stephen Hawking in "The Theory of Everything" or as the tortured, androgynous woman trapped in a man's body in "The Danish Girl". But it's a sure thing that he'll be nominated for another Oscar.
 
Variety
Peter Debruge
 
There's no denying that Hooper and screenwriter Lucinda Coxon have delivered a cinematic landmark, one whose classical style all but disguises how controversial its subject matter still remains
 
Los Angeles Times
Kenneth Turan
 
Though much of the acting attention in Danish Girl will understandably go to Redmayne, Vikander's position as the audience surrogate plus her energy and passion as Gerda, a woman facing an exceptional challenge to her love of her husband, is more than essential.
 
Film Prices:
 
General: $10.00
Seniors, Students and Active Military: $9.00
Members: $8.00
Children 12 and under: $7.00
 
Sunday Bargain Prices:
 
General: $8.00
Members: $6.00
Children 12 and under: $5.00
 
Add $2.00 to the above prices for 3D screenings.
 
Your membership with the Lincoln Theatre saves you $2.00 per film ticket.
 
*All prices include a $1.50 Preservation Fee that goes directly into our capital account for preservation of the Lincoln Theatre and its programs. Film tickets are only available at the door beginning 45 minutes before the first screening of the day. This saves you, the ticket buyer the fees associated with purchasing online. Never fear – there are plenty of seats!
 
Monday film screenings are part of the Lincoln Theatre Member Mondays! Click here  for details.
 
Film dates and times are subject to change and extended runs. Please check back here, or our phone message at 360.336.8955, day of show.