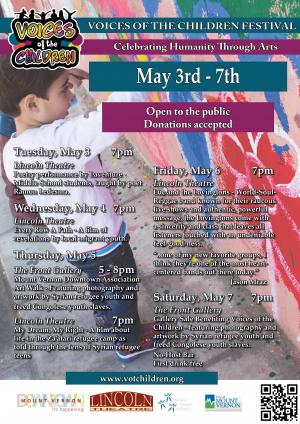 Tuesday, May 3, 2016 - 7:00pm
Wednesday, May 4, 2016 - 7:00pm
Thursday, May 5, 2016 - 7:00pm
Friday, May 6, 2016 - 7:00pm
All events are open to the public and donations are gladly accepted
 
CELEBRATING HUMANITY THROUGH ARTS
 
In this, the inaugural year of the festival, Voices of the Children brings youth arts projects to the downtown of Mount Vernon, WA USA.  Showcasing work from Voices of the Children initiatives locally and abroad as well as from special guests, the festival showcases the power of the youth voice through art.  
Hosting 2 artists-in-residence at LaVenture Middle School, poet Ramon Ledezma and artist Benjamin Swatez, the festival features a variety of arts mediums connecting kids through collaborative projects and celebrating unique perspectives on humanity.
The festival features 10 murals painted by local students and Syrian refugee youth mounted above awnings of 1st street businesses, 2 independent films, photography and artwork by Syrian refugee and freed Congolese slave youth, poetry and music.
All events are open to the public and donations are gladly accepted
 
Tuesday, May 3rd                   7pm
Lincoln Theatre
Poetry performance LaVenture Middle School Students, taught by poet Ramon Ledesma.
 
Wednesday, May 4th           7pm
Lincoln Theatre
​Every Row A Path - A film of revelations by local migrant youth.
For migrant families in rural America, survival isn't easy.  For five young women in Washington's Skagit Valley, survival isn't enough.
 
Thursday, May 5th
The Front Gallery                 5 - 8pm
Mount Vernon Downtown Association Art Walk - Featuring photography and artwork by Syrian refugee youth and freed Congolese youth slaves.
Lincoln Theatre                      7pm
My Dream, My Right - A film about life in the Za'atari refugee camp as told through the lens of Syrian refugee teens.
 
Friday, May 6th                       7pm
Lincoln Theatre
Luc and the Lovingtons - World-Soul-Reggae band known for their raucous live shows and authentic, powerful message, the Lovingtons come with a sincerity and class that leaves all listeners touched with an undeniable feel-goodness.
"...one of my new favorite groups, I think they're one of the most heart-centered bands out there today."
​                              Jason Mraz 
 
Saturday, May 7th                   6pm
​The Front Gallery
Gallery sale benefiting Voices of the Children - featuring photography and artwork by Syrian refugee youth and freed Congolese youth slaves
No-Host Bar
​First drink free