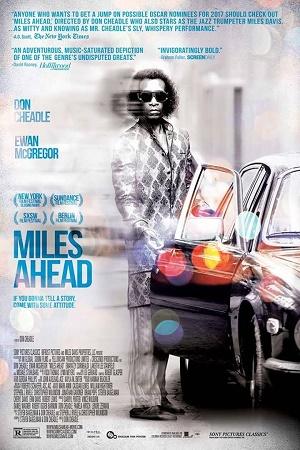 Saturday, May 14, 7:30 pm
Starring: Don Cheadle, Emayatzy E. Corinealdi, Ewan McGregor, Michael Stuhlbarg
Director: Don Cheadle
Summary: In the midst of a dazzling and prolific career at the forefront of modern jazz innovation, Miles Davis (Don Cheadle) virtually disappears from public view for a period of five years in the late 1970s. Alone and holed up in his home, he is beset by chronic pain from a deteriorating hip, his musical voice stifled and numbed by drugs and pain medications, his mind haunted by unsettling ghosts from the past.
What the critics are saying:
The New York Times, Manohla Dargis
Does it matter that stretches of Miles Ahead — a gun-rattling, squealing-tire car chase included — came out of the filmmakers' imagination rather than Davis's life? (Mr. Cheadle shares script credit with Steven Baigelman.) Purists may howl, but they'll also miss the pleasure and point of this playfully impressionistic movie.
New York Daily News, Stephen Whitty
Directed by, and starring, Don Cheadle, it's more about truth than facts. Did this all happen just the way it's laid out? Definitely not. But if the notes are wrong, the themes are right.
Chicago Sun-Times, Richard Roeper
Cheadle the director, producer and co-writer boldly goes for broke with mixed results in this highly fictionalized version of the Miles Davis legend — and Cheadle the actor gives a brilliant performance worthy of an Oscar nomination.
The A.V. Club, Mike D'Angelo
So give Don Cheadle credit for innovation, at least: His Miles Davis biopic (which he directed, co-wrote, and stars in), Miles Ahead, tackles the problem head-on… by inventing cinematic things for Davis to do when he's not playing music, including ludicrous car chases and gunfights.
Film Prices:
General: $10.00
Seniors, Students and Active Military: $9.00
Members: $8.00
Children 12 and under: $7.00
Sunday Bargain Prices:
General: $8.00
Members: $6.00
Children 12 and under: $5.00
Add $2.00 to the above prices for 3D screenings.
Your membership with the Lincoln Theatre saves you $2.00 per film ticket.
*All prices include a $1.50 Preservation Fee that goes directly into our capital account for preservation of the Lincoln Theatre and its programs. Film tickets are only available at the door beginning 45 minutes before the first screening of the day. This saves you, the ticket buyer the fees associated with purchasing online. Never fear – there are plenty of seats!
Monday film screenings are part of the Lincoln Theatre Member Mondays! Click here http://www.lincolntheatre.org/benefits-membership for details.
Film dates and times are subject to change and extended runs. Please check back here, or our phone message at 360.336.8955, day of show.