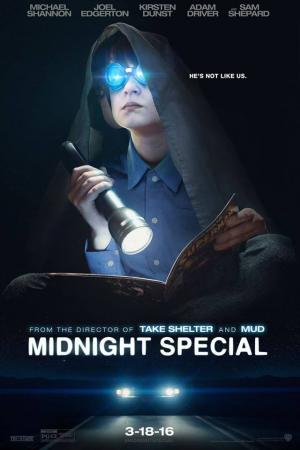 Saturday, May 21, 7:30 pm
Starring: Michael Shannon, Jaeden Lieberher, Joel Edgerton and Kirsten Dunst
 
Director: Jeff Nichols
  
A father (Michael Shannon), goes on the run to protect his young son, Alton (Jaeden Lieberher), and uncover the truth behind the boy's special powers. What starts as a race from religious extremists and local law enforcement quickly escalates to a nationwide manhunt involving the highest levels of the Federal Government. Ultimately his father risks everything to protect Alton and help fulfill a destiny that could change the world forever.
What the critics are saying:
Entertainment Weekly, Chris Nashawaty
 
As father and son speed toward some doomsday reckoning, Nichols keeps us guessing in a way that evokes "Close Encounters of the Third Kind." Midnight Special is a more modest, more enigmatic film than that one was, but it's no less gripping.
 
Rolling Stone, Peter Travers
 
Go with it. Let Nichols turn your head around. He sure as hell will. One caveat: Nichols drops you into the action, no backstory road map. What you see is what you get. Luckily, what you get is extraordinary.
 
The Telegraph, Tim Robey
 
The most haunting part of this riskily earnest film isn't the unmentionable effects coup of its grand finale, but the quieter beats, all in close-up, that comprise its coda: atomised, spent, and sad.
 
New York Magazine (Vulture), David Edelstein
 
Nichols's mythic aspirations are still a puzzle to me; I'm not sure he has connected all the dots in his psyche yet, or that he fully brings off his finale. But I love watching his movies.
 
Film Prices:
General: $10.00
Seniors, Students and Active Military: $9.00
Members: $8.00
Children 12 and under: $7.00
Sunday Bargain Prices:
General: $8.00
Members: $6.00
Children 12 and under: $5.00
 
Add $2.00 to the above prices for 3D screenings.
 
Your membership with the Lincoln Theatre saves you $2.00 per film ticket. *All prices include a $1.50 Preservation Fee that goes directly into our capital account for preservation of the Lincoln Theatre and its programs.
 
Film tickets are only available at the door beginning 45 minutes before the first screening of the day. This saves you, the ticket buyer the fees associated with purchasing online. Never fear – there are plenty of seats!
 
Members have benefits! Click here for details.
 
Film dates and times are subject to change and extended runs. Please check back here, or our phone message at 360.336.8955, day of show.