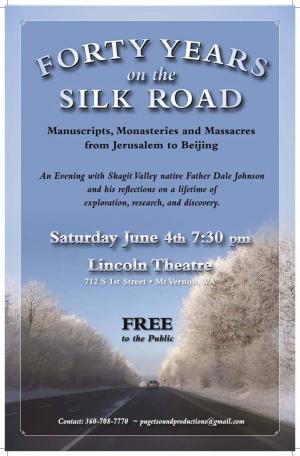 Saturday, June 4, 2016 - 7:30pm
Father Dale Albert Johnson is a Skagit Valley native who has gained international recognition for his discovery, translation and interpretation of manuscripts written in the language of Jesus.
Ordained as a Syriac Orthdox Priest in 1991…Father Johnson has served refugees, internally displaced people, religious minorities of the Middle East for the last 25 years.
Winner of the Role Model Leadership Award, 2006, awarded by North Carolina State University. Previous winners have included Poet Maya Anjelou, Founders of Habitat for Humanity, and Former North Carolina Governor James Hunt.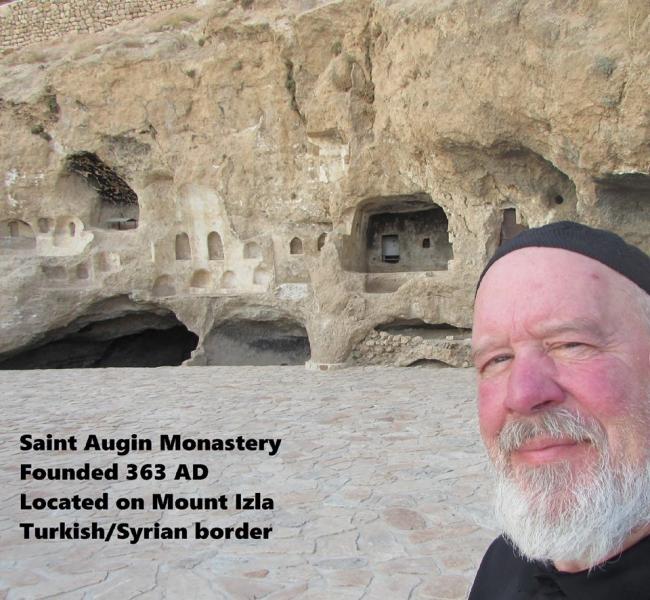 Writer of 89 books on history, linguistics, and Silk Road Studies. Fr. Johnson is a contributor to academic conferences on the Silk Road every four years in Salzburg Austria. Recent books include Return to Antioch, Forty Days on the Holy Mountain, and Searching for Jesus on the Silk Road.
Founder of Dominican Outreach Schools in the Dominican Republic and one orphange in Haiti, a microloan program in Puerto Plata, D.R., benefiting over 400 families, housing for 320 families in the Dominican Republic, and annual surveys on human trafficking (2003-2010). 
Creator of the Seeds of Hope Nineveh Project sponsoring 223 gardens to feed the souls and bodies of more than 2000 families in Iraq, Syria, and Turkey. (2015-2016)
C.E.O. of a humanitarian NGO, Charitas SS, based in Antioch, Turkey providing international legal services to refugees of the region (2016).
Father Johnson began his career searching for Syria/Aramaic manuscripts in the Middle East 1976-1988) He contributed over 20,000 pages of previously unknown material to the Arthur Voobus MS collection at the University of Chicago. During these years he was chosen by Bishop Athanasius Y, Samuel to be his personal assistant. Bishop Samuel was famous for owning and naming the Dead Seas Scrolls when he was bishop of Jerusalem in 1948. Fr. Johnson did brief projects in South Africa and was the guest of Nobel Prize winner Bishop Desmond Tutu in 1988. In 1990, Fr.. Johnson was sent to St. Gabriel Monastery in S.E. Turkey were he served thousands of refugee families duing the first Gulf War. He was ordained on July 28, 1991 in Teaneck, New Jesey and briefly served as a local priest on Long Island. A year later he returned to Turkey where he served for the next ten years. 
In 2003 he was asked manage a program for Orphanage Outreach where he mentored 1500 college students on humanitarian service. He later founded Dominican Outreach where he founded microloan programs, housing projects, and annual surveys of human trafficking in the Carribean.
In 2010 he was asked by the UNHCR to assist in disaster relief in China.. He taught at Ningxia University for 4 years and did research on the Silk Road and discovered more evidence of Semitic Christianity in 8th century China.
Early in 2015 he returned to S.E. Turkey and Northern Iraq to survey the needs of refugees fleeing ISIS in the region. During this time he founded the Seeds of Hope program. 
In 2016 he was elected C.E.O of a small NGO in Germany to serve refugees who made their way from Syria to Germany. One of his first acts was to set up an international law office in Antakya (Antioch) Turkey to assist refugees trying to get across the border from Syria.
Fr. Johnson will be joined by one of his deacons from Turkey on May 16. The Rev. Deacon Georg Koenig will accompany Fr. Johnson in his lectures and a book tour until June 18 when they will return to Turkey to continue in their work assisting refugees fleeing ISIS.