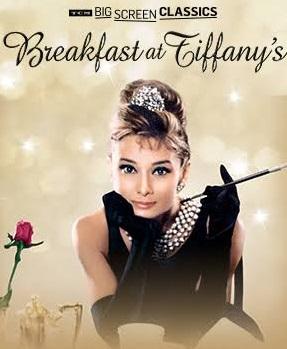 Saturday, Aug 20, 5:00 pm
Special pricing for our 90th anniversary celebration: $2.00.
 
Breakfast at Tiffany's is a 1961 American romantic comedy film starring Audrey Hepburn and George Peppard, and featuring Patricia Neal, Buddy Ebsen, Martin Balsam, and Mickey Rooney. The film was directed by Blake Edwards and released by Paramount Pictures. It is loosely based on the novella of the same name by Truman Capote.
 
Starring: Audrey Hepburn and George Peppard
 
Director: Blake Edwards
 
What the critics say:
 
Variety
 
Out of the elusive, but curiously intoxicating Truman Capote fiction, scenarist George Axelrod has developed a surprisingly moving film, touched up into a stunningly visual motion picture.
 
The New York Times, A. H. Weiler
 
Like that storied novella by Truman Capote from which it stems, it is a completely unbelievable but wholly captivating flight into fancy composed of unequal dollops of comedy, romance, poignancy, funny colloquialisms and Manhattan's swankiest East Side areas captured in the loveliest of colors.
 
Empire, Emma Cochrane
 
Audrey Hepburn is delicious as Holly and the Henry Mancini score is in the class of elite soundtracks.