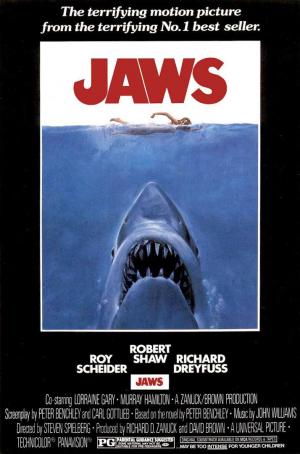 All Seats $3.00!
 
When the seaside community of Amity finds itself under attack by a dangerous great white shark, the town's chief of police (Roy Scheider), a young marine biologist (Richard Dreyfuss) and a grizzled shark hunter (Robert Shaw) embark on a desperate quest to destroy the beast before it strikes again.
 
Starring: Richard Dreyfuss, Robert Shaw, and Roy Scheider
 
Director: Steven Spielberg
 
Pre-show music: Nick Nicolai on the Mighty Wurlitzer
 
What the critics say:
 
ReelViews, James Berardinelli
 
The first is the best. When it comes to this kind of thriller, no movie has been able to top Jaws, although many have tried. And, as the years go by, it seems increasingly unlikely that anything will come close.
 
The Guardian, Peter Bradshaw
 
This is a suspense classic that leaves teeth-marks.
 
Empire, Ian Nathan
 
It was the complete nightmare that invented the "summer blockbuster", launched the genius on a global scale and delivered an astonishingly effective thriller built on a very primal level: fear.
 
The Telegraph, Martin Chilton
 
The terror, panic and small town politics are all brilliantly done but this is also a film about bravery and friendship and the scenes in which the trio bond as they sit out at sea waiting to fight death itself are moving and witty.