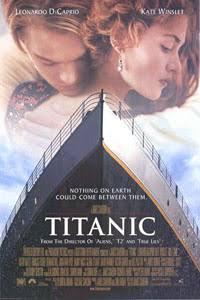 All Seats $5.00!
 
Fictional romantic tale of a rich girl and a poor bohemian boy who meet on the ill-fated voyage of the 'unsinkable' ship.
 
Starring: Kate Winslet, Leonardo DiCaprio
 
Director: James Cameron
 
What the critics say:
 
Chicago Sun-Times, Roger Ebert
 
It is flawlessly crafted, intelligently constructed, strongly acted and spellbinding.
 
ReelViews, James Berardinelli
 
You don't just watch Titanic, you experience it.
 
Chicago Tribune, Michael Wilmington
 
A film that sweeps us away into a world of spectacle, beauty and excitement, a realm of fantasy unimaginable without the movies.