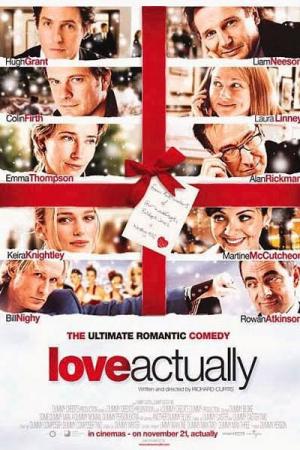 Saturday, Dec 17, 5:00 pm
All Seats $6.00!
 
This ultimate romantic comedy weaves together a spectacular number of love affairs into one amazing story:  Love Actually involves more than a dozen main characters, each weaving his or her way into another's heart over the course of one particularly eventful Christmas. The seemingly perfect wedding of Juliet (Keira Knightley) and Peter (Chiwetel Ejiofor) brings many of the principals together, including heartsick best man Mark (Andrew Lincoln), who harbors a very unrequited crush on Juliet. There's also recent widower Daniel (Liam Neeson), trying to help his lonely stepson Sam (Thomas Sangster) express his true feelings to a classmate. Across town, devoted working mother Karen (Emma Thompson) tries to rekindle the passion of her husband, Harry (Alan Rickman), who secretly pines for a young colleague of his. In the same office, the lonely Sarah (Laura Linney) not-so-secretly pines for a man just a few desks away (Rodrigo Santoro), who returns her affections but may not be able to dissuade her neuroses. Providing the unofficial soundtrack for all of the couples is an aging rocker (Bill Nighy) who just wants to cash in and get laid -- but even he might find a meaningful relationship in the most unlikely of places.
Additional cast features: Hugh Grant, Colin Firth, Martin Freeman, Billy Bob Thornton, and Rowan Atkinson   
Director: Richard Curtis
 
What the critics say:
 
Entertainment Weekly, Owen Gleiberman
 
It's a toasty, star-packed ensemble comedy in which a handful of lonelyhearts attempt, with some success, to come out of their shells, and it's going to make a lot of holiday romantics feel very, very good; watching it, I felt cozy and charmed myself.
 
Miami Herald, Connie Ogle
 
The biggest surprise in the cheery, delightful Love Actually is its lively, edgy, slightly blue sense of humor.
 
The A.V. Club, Scott Tobias
 
Provides enough happy endings to make the audience forget that romance and Christmas miracles don't always work out.