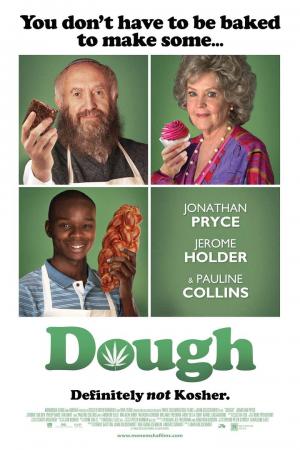 Saturday, Aug 13, 7:30 pm
Curmudgeonly widower Nat Dayan (Jonathan Pryce) clings to his way of life as a Kosher bakery shop owner in London's East End. Understaffed, Nat reluctantly enlists the help of teenager Ayyash (Jerome Holder), who has a secret side gig selling marijuana to help his immigrant mother make ends meet. When Ayyash accidentally drops his stash into the mixing dough, the challah starts flying off the shelves and an unlikely friendship forms between the old Jewish baker and his young Muslim apprentice. Dough is a warmhearted and humorous story about overcoming prejudice and finding redemption in unexpected places. 
 
Starring: Jonathan Pryce, Jerome Holder
 
Director: John Goldschmidt
On the Wurlitzer:
 
Friday, August 12th Harvey Rossiter
Saturday, August 13th Fred Beeks
Sunday, August 14th Fred Beeks
Monday, August 15th Fred Beeks
 
What the critics say:
 
The Seattle Times, Tom Keogh
 
Though Dough is often in danger of running off the rails with improbable and unnecessary plot twists, it is always essentially entertaining and warm in its observations of hope rekindled through simple relationships. 
All this critic's reviews
Read full review
 
 
The Film Stage, Jared Mobarak
 
Pryce and Holder are perfectly suited to the roles and form an authentic chemistry that excels above workplace formalities. 
 
  
The Hollywood Reporter, Frank Scheck
 
Fortunately, the terrific lead performances by Jonathan Pryce and newcomer Jerome Holder are enough to help Dough rise above its formulaic ingredients.
   
 
Film Prices:
 
General: $10.00
Seniors, Students and Active Military: $9.00
Members: $8.00
Children 12 and under: $7.00
 
Sunday Bargain Prices:
 
General: $8.00
Members: $6.00
Children 12 and under: $5.00
 
Add $2.00 to the above prices for 3D screen
 
Your membership with the Lincoln Theatre saves you $2.00 per film ticket.
 
*All prices include a $1.50 Preservation Fee that goes directly into our capital account for preservation of the Lincoln Theatre and its programs. Film tickets are only available at the door beginning 45 minutes before the first screening of the day. This saves you, the ticket buyer the fees associated with purchasing online. Never fear – there are plenty of seats!
 
Members have benefits: Click here http://www.lincolntheatre.org/benefits-membership for details.
 
Film dates and times are subject to change and extended runs. Please check back here, or our phone message at 360.336.8955, day of show.