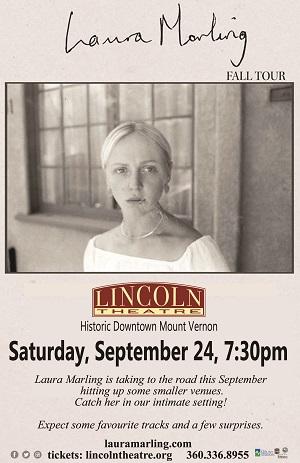 Saturday, September 24, 2016 - 7:30pm
Advance Reserved Seating Tickets: $35, $30, $25 and $20 with $2 off for Lincoln Theatre Members.
The Lincoln Theatre presents English singer/songwriter Laura Marling on Saturday, September 24th at 7:30pm
 
Laura Marling was only 16 years old when she emerged on the British indie scene in 2007 thanks to a handful of infectious singles made available on her MySpace profile. Endowed with a husky voice, an acoustic guitar, and a gift for building quirky, hooky folk songs, Marling quickly made a name for herself throughout England thanks to a heavy touring schedule and a few high-profile gigs. 2016 has seen Laura step back from her prolific album making of the past 10 years and instead she has embarked on a year of side projects. In September she will take to the road on a solo tour of smaller venues in North West America in the spirit of a good old fashioned road trip.
 
"I've always been told that I'm an old soul. And I'm not. I just have a deep voice and a stern face. I am actually young. I hadn't had chance to stop and think about that before."
 
In 2015, Laura Marling came off the road after touring her hugely successful fourth album Once I Was an Eagle, and immediately set about recording its successor , Short Movie "I literally rolled out of the van and into the studio — a decision made by my own stubbornness," she recalls. "And then I just stopped cold turkey." Marling's fifth album, Short Movie, was the result of an extended period of stopping and thinking. "I realised that I hadn't been in a place for longer than two or three weeks since I was 16," she explains. "I thought 'I wonder what will happen if I try and root myself somewhere?' Look back over the past eight years."
 
Shelving the album she had written and begun, she gave herself six months away from anything related to music, to explore and learn new skills, to try other kinds of writing, other ways of thinking. "It was definitely good for me," she says. "But it was also absolutely horrible and I'll never do that again." Uncertain whether she wanted to continue songwriting she had redirected her energy into poetry, only to have her application (under a pseudonym) to study at a writing centre in upstate New York turned down. "I think," she says, "it was the first time anybody's ever said no to me."
 
And so Marling returned to Los Angeles, where she has lived for the past few years, and sought new direction. "LA is literally the worst place to not have a job," she says. "It's so drifty anyway. It's the kind of place where you can either skim the surface, go with the tide or be dragged down to the stagnant waters. And you don't want to fall through the cracks here, I guess. Not that you're in danger of doing that if you're somewhat sane, but I felt really on the edge of sanity." Exploring the worlds of mysticism, yoga and psychedelics, she began to feel the isolation of her city, to notice "people talking about good vibrations in a concrete jungle", the people on the street who "just seem to let the light come in a bit too much to close it off again. And you can't look at them without knowing that you're capable of doing that too." The days began to blend together. "Everything, every day seemed really banal," she remembers. "If I was in France we would have called it 'an existential crisis' and got on with it. But here they treat negativity like it's something infectious."
 
Slowly out of the "chaos" of that time Marling began to find a kind of order. She enrolled on several online courses to study literary criticism, immersed herself in the writing of Rilke, Chris Kraus and Jodorowsky. "I got really obsessed with getting educated," she explains. "And then I realized it's not actually about being educated it's about being wise." Her intention was to "take the mysticism of songwriting and tame it in a way. Or take control of it. I wanted some whipping into shape. And I think that by whatever means I have done that. And that's why I think this crop of songs is different." These songs are different — in mood and sound and temperament. They reflect a time of great exploration for Marling, and so encompass doubt, magic, hope, humanity, salvation, rage, peace, place and being alone.