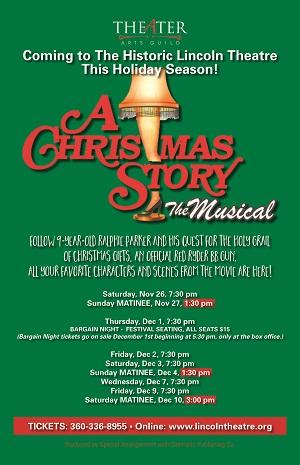 Saturday, November 26, 2016 - 7:30pm
Sunday, November 27, 2016 - 1:30pm
Thursday, December 1, 2016 - 7:30pm
Friday, December 2, 2016 - 7:30pm
Saturday, December 3, 2016 - 7:30pm
Sunday, December 4, 2016 - 1:30pm
Wednesday, December 7, 2016 - 7:30pm
Friday, December 9, 2016 - 7:30pm
Saturday, December 10, 2016 - 3:00pm
Reserved seating tickets: $24, $20, & $12, plus applicable fees. Thursday, December 1 is Bargain Night! All seats $15 at the door, beginning 5:30pm!
 A Christmas Story, which received rave reviews on its Broadway run, is based on the movie classic that runs round-the-clock on television every Christmas. Set in the 1940s in the fictional town of Hohman, Indiana, the musical follows 9-year-old Ralphie Parker and his quest for the Holy Grail of Christmas gifts—an Official Red Ryder carbine-action 200-shot Range Model air rifle. All the iconic scenes from the movie are here: Ralphie's friend, Flick, getting his tongue stuck to the flagpole; his brother, Randy, getting dressed in his snowsuit; the bullies, Farkus and Dill; the leg lamp award; the bunny suit; the Chinese restaurant; Christmas dinner; and many others. A Christmas Story, The Musical will bring an exciting new dimension to those who have seen the movie and will certainly stand on its own for those who haven't.
 
A Christmas Story, The Musical is produced by Theatre Arts Guild.
 
The first three rows of seating are being held for the thrust stage. Front of house left is being held for the band and extra performance space. Some held seating may be released in these sections the week prior to opening.