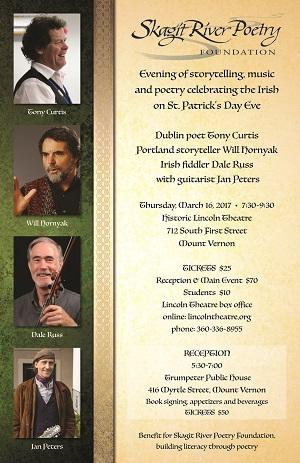 Thursday, March 16, 2017 - 7:30pm
Advance tickets: $25 Main event; $10 Students, $70 Reception and event; $50 Reception only
SPIRITED ST. PADDY'S EVE
WITH IRISH POET TONY CURTIS, STORYTELLER WILL HORNYAK, AND MUSICIANS DALE RUSS & JAN PETERS
 
Expect high spirits, laughter, and lilting music of both the literary and instrumental kind when award-winning Oregon storyteller Will Hornyak returns to the Skagit Valley and joins Ireland's beloved poet troubadour Tony Curtis and the Seattle-area traditional Irish musicians, Dale Russ and Jan Peters for a St. Patrick's Eve celebration, March 16 at 7:30 at the historic Lincoln Theatre. 
 
A reception and book signing begins at 5:30 at the Trumpeter Public House prior to the main event at the Lincoln Theatre.
 
Sponsoring the evening is The Skagit River Poetry Foundation, dedicated to enhancing literacy and the appreciation of writing throughout our Northwest schools and communities. 
 
The reception with the artists will be held at the Trumpeter Public House, 416 Myrtle Street, Mount Vernon. Reception includes Book Signing, appetizers and beverages.