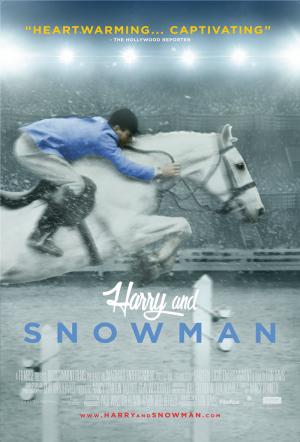 Saturday, Dec 31, 7:30 pm
Dutch immigrant, Harry deLeyer, journeyed to the United States after World War II and developed a transformative relationship with a broken down Amish plow horse he rescued off a slaughter truck bound for the glue factory. Harry paid eighty dollars for the horse and named him Snowman. In less than two years, Harry and Snowman went on to win the triple crown of show jumping, beating the nations blue bloods. They were famous for their day and traveled around the world together. Their chance meeting at a Pennsylvania horse auction saved them both and crafted a friendship that lasted a lifetime. Eighty-six year old Harry tells their Cinderella love story firsthand, as he continues to train on today's show jumping circuit.
   
Director:  Ron Davis
   
Language: English
 
What the critics are saying:
 
Gary Goldstein
Los Angeles Times
 
Gallop, don't trot to Ron Davis' winning documentary "Harry & Snowman," which recounts the inspiring story of an underdog show horse, his tenacious trainer and their rise to fame in the late 1950s.
 
Serena Donadoni
Village Voice
 
The engaging Harry & Snowman shows the impact of a rescue animal on the man who saw his neglected qualities. It's also a succinct demonstration of the difference between a livelihood and a life's work.
 
David Rooney
Hollywood Reporter
 
Laced with captivating home movies and a wealth of archive footage from the 1950s and '60s... Davis' film is a disarming underdog story that doubles as an animal-rescue advocacy tool.
 
Film Prices:
 
General: $10.00
Seniors, Students and Active Military: $9.00
Members: $8.00
Children 12 and under: $7.00
 
Sunday Bargain Prices:
 
General: $8.00
Members: $6.00
Children 12 and under: $5.00
 
Add $2.00 to the above prices for 3D screen
 
Your membership with the Lincoln Theatre saves you $2.00 per film ticket.
 
*All prices include a $1.50 Preservation Fee that goes directly into our capital account for preservation of the Lincoln Theatre and its programs. Film tickets are only available at the door beginning 45 minutes before the first screening of the day. This saves you, the ticket buyer the fees associated with purchasing online. Never fear – there are plenty of seats!
 
Members have benefits: Click here for details.
 
Film dates and times are subject to change and extended runs. Please check back here, or our phone message at 360.336.8955, day of show.