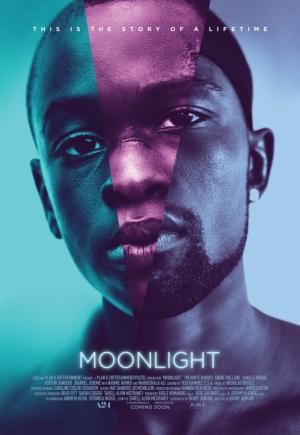 A timeless story of human connection and self-discovery, Moonlight chronicles the life of a young black man from childhood to adulthood as he struggles to find his place in the world while growing up in a rough neighborhood of Miami.
 
Starring: Alex R. Hibbert, Ashton Sanders, Duan Sanderson, Herman 'Caheei McGloun, Jaden Piner, Janelle Monáe, Mahershala Ali, Naomie Harris, and Shariff Earp.
   
Director: Barry Jenkins
   
Language: English

What the critics are saying:
 
Certified Fresh on Rotten Tomatoes
 
Moonlight uses one man's story to offer a remarkable and brilliantly crafted look at lives too rarely seen in cinema.
 
The NY Times
 
Perhaps the most beautiful thing about Moonlight is its open-endedness, its resistance to easy summary or categorization. 
 
David Sims, The Atlantic
 
Barry Jenkins's new film somehow manages to feel grand and intricate in the same moment, weaving random memories and crucial life experiences into a gripping tapestry. 
 
Peter Debruge, Variety
 
A socially conscious work of art as essential as it is insightful. 
Film Prices:
 
General: $10.00
Seniors, Students and Active Military: $9.00
Members: $8.00
Children 12 and under: $7.00
 
Sunday Bargain Prices:
 
General: $8.00
Members: $6.00
Children 12 and under: $5.00
 
Add $2.00 to the above prices for 3D screen
 
Your membership with the Lincoln Theatre saves you $2.00 per film ticket.
 
*All prices include a $1.50 Preservation Fee that goes directly into our capital account for preservation of the Lincoln Theatre and its programs. Film tickets are only available at the door beginning 45 minutes before the first screening of the day. This saves you, the ticket buyer the fees associated with purchasing online. Never fear – there are plenty of seats!
 
Members have benefits: Click here http://www.lincolntheatre.org/benefits-membership for details.
 
Film dates and times are subject to change and extended runs. Please check back here, or our phone message at 360.336.8955, day of show.