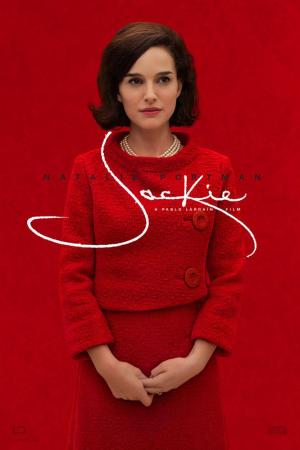 Wednesday, Feb 8, 7:30 pm
One more screening of Jackie is scheduled for tonight!
 
Jackie is a searing and intimate portrait of one of the most important and tragic moments in American history, seen through the eyes of the iconic First Lady, then Jacqueline Bouvier Kennedy. Jackie places us in her world during the days immediately following her husband's assassination. Known for her extraordinary dignity and poise, here we see a psychological portrait of the First Lady as she struggles to maintain her husband's legacy and the world of "Camelot" that they created and loved so well.
 
Starring: Natalie Portman, Peter Sarsgaard, Greta Gerwig, John Hurt, Max Casella, and Beth Grant.
   
Director: Pablo Larraín
On the Mighty Wurlitzer:
 
Friday: Fred Beeks
Saturday: Katie Moyer
Sunday: Fred Beeks
Monday: Katie Moyer
 
What the critics are saying:
 Jackie offers an alluring peek into a beloved American public figure's private world -- and an enthralling starring performance from Natalie Portman in the bargain.
 
Certified Fresh on Rotten Tomatoes
 
This is a movie about power, and its spectacle is that of a woman almost losing all of it. Larrain portrays all of this with the appropriate degree of horror and sorrow.
 
Colin Covert, Minneapolis Star Tribune
 
Portman is simply brilliant, getting to the essence of Jackie without resorting to a mere impersonation.
 
Calvin Wilson, St. Louis Post-Dispatch
 
Film Prices:
 
General: $10.00
Seniors, Students and Active Military: $9.00
Members: $8.00
Children 12 and under: $7.00
 
Sunday Bargain Prices:
 
General: $8.00
Members: $6.00
Children 12 and under: $5.00
 
Add $2.00 to the above prices for 3D screen
 
Your membership with the Lincoln Theatre saves you $2.00 per film ticket.
 
*All prices include a $1.50 Preservation Fee that goes directly into our capital account for preservation of the Lincoln Theatre and its programs. Film tickets are only available at the door beginning 45 minutes before the first screening of the day. This saves you, the ticket buyer the fees associated with purchasing online. Never fear – there are plenty of seats!
 
Members have benefits: Click here for details.
 
Film dates and times are subject to change and extended runs. Please check back here, or our phone message at 360.336.8955, day of show.