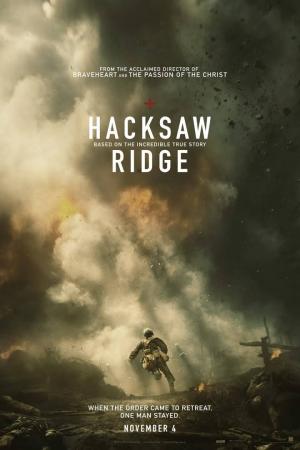 Saturday, Feb 11, 7:30 pm
Hacksaw Ridge's Six Academy Award Nominations include Best Picture, Best Actor (Andrew Garfield) and Best Director (Mel Gibson) is a testament to Mel Gibson's career rehabilitation. It is the extraordinary true story of Desmond Doss who, in Okinawa during the bloodiest battle of WWII, saved 75 men without firing or carrying a gun. He was the only American soldier in WWII to fight on the front lines without a weapon, as he believed that while the war was justified, killing was nevertheless wrong. As an army medic, he single-handedly evacuated the wounded from behind enemy lines, braved fire while tending to soldiers and was wounded by a grenade and hit by snipers. Doss was the first conscientious objector to ever earn the Congressional Medal of Honor.
Starring: Andrew Garfield, Richard Pyros, Jacob Warner (III), Milo Gibson, Darcy Bryce, and Roman Guerriero
 
Director: Mel Gibson
 
What the critics are saying:
 
Hacksaw Ridge uses a real-life pacifist's legacy to lay the groundwork for a gripping wartime tribute to faith, valor, and the courage of remaining true to one's convictions.
 
Certified Fresh on Rotten Tomatoes
 
Hacksaw Ridge is being touted as Gibson's comeback. Is it also an atonement? What's clear is that Gibson has made a film about family, faith, love and forgiveness all put to the test in an arena of violent conflict - a movie you don't want to miss.
 
Peter Travers, Rolling Stone
 
(Desmond Doss') is a story you probably didn't know, and will be glad you did. Gibson does well by it.
 
Jocelyn Noveck, Associated Press
 
Film Prices:
 
General: $10.00
Seniors, Students and Active Military: $9.00
Members: $8.00
Children 12 and under: $7.00
 
Sunday Bargain Prices:
 
General: $8.00
Members: $6.00
Children 12 and under: $5.00
 
Add $2.00 to the above prices for 3D screen
 
Your membership with the Lincoln Theatre saves you $2.00 per film ticket.
 
*All prices include a $1.50 Preservation Fee that goes directly into our capital account for preservation of the Lincoln Theatre and its programs. Film tickets are only available at the door beginning 45 minutes before the first screening of the day. This saves you, the ticket buyer the fees associated with purchasing online. Never fear – there are plenty of seats!
 
Members have benefits: Click here for details.
 
Film dates and times are subject to change and extended runs. Please check back here, or our phone message at 360.336.8955, day of show.