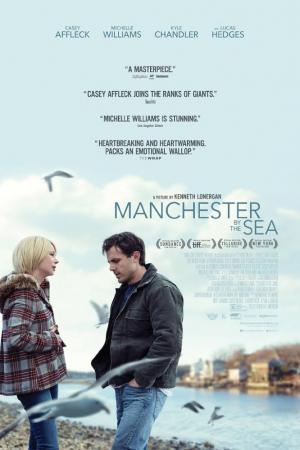 Running Time: 137 minutes
After the death of his older brother Joe (Kyle Chandler), Lee Chandler (Casey Affleck) is shocked to learn that Joe has made him sole guardian of his nephew Patrick (Lucas Hedges). Taking leave of his job, Lee reluctantly returns to Manchester-by-the-Sea to care for Patrick, a spirited 16-year-old, and is forced to deal with a past that separated him from his wife Randi (Michelle Williams) and the community where he was born and raised. Bonded by the man who held their family together, Lee and Patrick struggle to adjust to a world without him.
 
Six Academy Award Nominations including Best Picture, Best Actor (Casey Affleck), and Best Director
 
Director: Kenneth Lonergan (Margaret, You Can Count On Me)
 
Cast: Casey Affleck, Michelle Williams, Dyle Chandler, Lucas Hedges, Gretchen Mol, and C.J. Wilson
 
What the critics are saying:
 
Certified Fresh (96%) on Rotten Tomatoes
 
Manchester by the Sea delivers affecting drama populated by full-bodied characters, marking another strong step forward for writer-director Kenneth Lonergan.
 
Detroit News, Adam Graham
 
It's painful and tragic, yet it's cut with elements of humor and laughter. Just like life.
 
ReelViews, James Berardinelli
 
Unforced acting couples with a nuanced, insightful script to tell a story that, although seemingly simple, is achingly complex.
 
Film Prices:
 
General: $10.00
Seniors, Students and Active Military: $9.00
Members: $8.00
Children 12 and under: $7.00
 
Sunday Bargain Prices:
 
General: $8.00
Members: $6.00
Children 12 and under: $5.00
 
Add $2.00 to the above prices for 3D screen
 
Your membership with the Lincoln Theatre saves you $2.00 per film ticket.
 
*All prices include a $1.50 Preservation Fee that goes directly into our capital account for preservation of the Lincoln Theatre and its programs. Film tickets are only available at the door beginning 45 minutes before the first screening of the day. This saves you, the ticket buyer the fees associated with purchasing online. Never fear – there are plenty of seats!
 
Members have benefits: Click here for details.
 
Film dates and times are subject to change and extended runs. Please check back here, or our phone message at 360.336.8955, day of show.