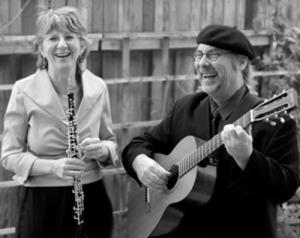 General: $22; Seniors & Students: $18
Grammy Award winners Tingstad and Rumbel return to the Historic Lincoln Theatre with a program of original and popular compositions.
Universally known for their perfect blend of Americana fingerstyle guitar, oboe, English horn and ocarina, Tingstad and Rumbel have expanded the duo in their 19th recording, Leap of Faith. This is American home-style music at its finest with eclectic flavors and international spice. From the most often requested song in their career, Medicine Tree, to traditional Asian folk tunes, Tex-Mex stylings, Caribbean rhythms, American songbook covers and Americana roots, their new album, Leap of Faith, captures the energy and excitement of their live performances.
Their warmth and humor make this concert a wonderful beginning to the Holiday Season.