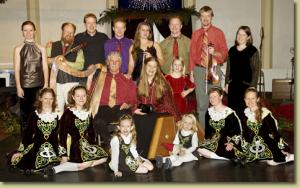 A Joyous Festival of Music and Dance.
 
By overwhelming popular demand the Magical Strings return to the Historic Lincoln Theatre continuing a decades long tradition with Celtic Yuletide.
 
Join in a celebration three decades in the making, as the Celtic family ensemble Magical Strings brings their 31st annual Celtic Yuletide Concerts to the Lincoln Theatre!  Combining lush and gorgeous Celtic-flavored holiday music, with singing, dancing, juggling, caroling, storytelling, and more, the acclaimed Celtic Yuletide concerts are staged annually by three generations of the multitalented Boulding family and friends.
The concerts are grand gala events, with music that features the richness and magic of Celtic harps, hammered dulcimers, violins, cello, whistles, and concertina (and more), and have become a festive, joyful and eagerly anticipated Northwest holiday tradition for people of all ages. It's the perfect holiday tradition for families, showcasing the music of the season in a way that is as joyful as it is mystical, haunting, and timeless. Magical Strings will be joined by the Raney Irish Dancers, juggler virtuoso Thomas Arthur, vocalists Mark and Colleen Raney, Irish flute player Hanz Araki, and more—in an unforgettable celebration to kindle the light of Yuletide, better than ever in its 31st year! The audience becomes a key part of the festivities, with members invited to don a costume and follow the processional through the aisles with the musicians, and join in the caroling near evening's end.  The hall resounds in glorious harmony as we close singing "All Through the Night."
$2 off Seniors, Students & Children $1 off Lincoln members