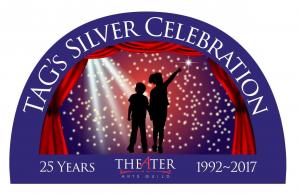 Thursday, August 31, 2017 - 7:30pm
Reserved seating tickets $25 and $15.
Theater Arts Guild's Silver Celebration at the Lincoln!
Theater Arts Guild is celebrating 25 years of bringing live theatre to the Skagit Valley. Over the years we have been blessed to have thousands of people, young and old, as part of our theater community; Performing onstage, as part of the production team, backstage, technical work, and even as audience members! This is our time to celebrate!
Please join us for an unforgettable evening of entertainment as we recall and relive some of the best moments of TAG. The evenings performances includes solos, small groups, and all cast ensemble numbers from performers you've seen many times before and also some faces new to TAG. The show will be capped off with a live band and we want everyone to get up from their seats and dance the night away!