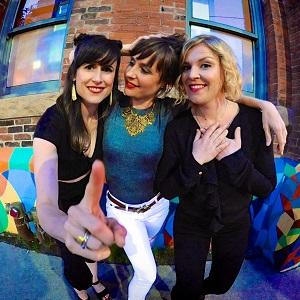 Saturday, January 20, 2018 - 7:30pm
Advance Reserved Seating Tickets: $34, $29, $24 + applicable fees. Lincoln Theatre Members receive $2 off.
The Good Lovelies, who delivered one of our favorite performances of 2015, will return to the Lincoln with material from their upcoming new album Shapeshifters. The first half of the album was recorded in February, in the depths of Canadian winter (70cm of snowfall falling over 24 hours, and snowing them in for two days) but they finished up tracking the album with Dan Ledwell in Lake Echo, Nova Scotia, with sun and swimming, so it should make for a stellar album.
The Good Lovelies are Canadian folk/pop harmony trio; Caroline Brooks, Kerri Ough and Sue Passmore. The group's three members were all solo artists in the Toronto area when they came together in 2006 to perform at a Christmas concert at Toronto's Gladstone Hotel. They subsequently decided to continue working together, releasing their debut EP, Oh My, in 2007. They released their first full-length album, The Good Lovelies, in 2009, which won the Juno Award for Roots & Traditional Album of the Year/Group at the 2010 Juno Awards. Their 2015 performance at the Lincoln celebrated the release of Burn The Plan. With their winsome songwriting, impeccable vocals, and triangulated charisma, they brought down the house!
This concert is a copresentation of the Lincoln Theatre and Tin Hut Concerts.
 I See Gold, is the Good Lovelies' first single from their upcoming album Shape Shifters. The song has been on the CBC Radio 2 Top 20 list regularly since its release in mid-November. The list features the top adult-alternative tracks in Canada.