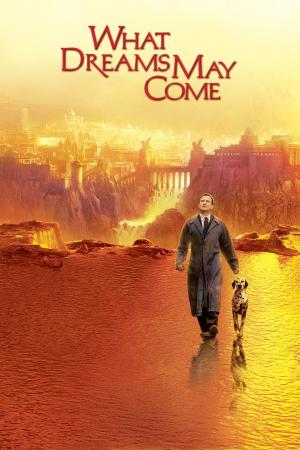 Running Time: 113 minutes
What Dreams May Come is the eighth installment in our Spectacular Spectacular series of films meant to be seen on a big screen and is sponsored by Jeff McInnis and Amanda Wilson.
Despite everything we have experienced and all we have seen, nothing can prepare us for the wonders of what lies beyond. Academy Award Winner Robin Williams is about to take you on an amazing journey...through heaven and hell. To rediscover the meaning of life...and the wonders of love.
What Dreams May Come is a 1998 American fantasy drama film, starring Robin Williams and Cuba Gooding Jr. The film is based on the 1978 novel of the same name by Richard Matheson, and was directed by Vincent Ward. It won the Academy Award for Best Visual Effects and the Art Directors Guild Award for Excellence in Production Design. It was also nominated for the Academy Award for Best Art Direction. The title is from a line in Hamlet's "To be, or not to be" soliloquy.
Next in the series: Vertigo on November 18.
Film Prices:
Lincoln Theatre Members get a $2 discount on the following prices:
General: $10.50
Seniors, Students and Active Military: $9.50
Children 12 and under: $8.00