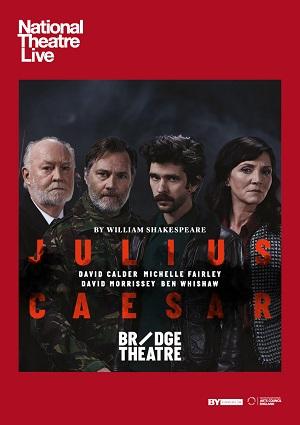 Ben Whishaw (The Danish Girl, Skyfall, Hamlet) and Michelle Fairley (Fortitude, Game of Thrones) play Brutus and Cassius, David Calder (The Lost City of Z, The Hatton Garden Job) plays Caesar and David Morrissey (The Missing, Hangmen, The Walking Dead) is Mark Antony. Broadcast live from The Bridge Theatre, London.
Caesar returns in triumph to Rome and the people pour out of their homes to celebrate. Alarmed by the autocrat's popularity, the educated élite conspire to bring him down. After his assassination, civil war erupts on the streets of the capital.
Nicholas Hytner's production will thrust the audience into the street party that greets Caesar's return, the congress that witnesses his murder, the rally that assembles for his funeral and the chaos that explodes in its wake. 
Please note that Julius Caesar will contain strobe lighting
Advance tickets: $18 adults, $16 seniors, $14 students and children + applicable fees. Lincoln Theatre Members receive $2 off. 10% discount for the purchase of 4 or more productions in the 2017 season.